Chelsea Capitulation Comes A Few Days Too Late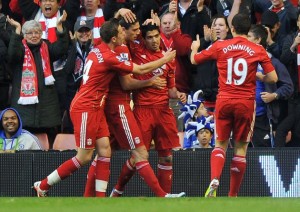 A few more matches like that, and Liverpool could be going into the last match of the season under dramatically different circumstances. An empathtic 4-1 victory, at Anfield, over Chelsea, was an unexpected result. A bit of revenge for their 2-1 loss to the Blues at Wembley on the weekend would be the first thing on the agenda for Kenny and the boys, but few expected a reaction of this magnitude. Luis Suarez forced a Micheal Essien into an own goal with a superb run before a John Terry error allowed Henderson to run through and finish past Turnbull with a cool as you'd like finish. Daniel Agger would score his first league goal in many moons and a Jonjo Shelvey strike from distance rounded out the rout after Ramirez pulled one back for the visitors. Personally, I've done my absolute best to forget the gleeful taste of schadenfreude, but indulging now and again remains a guilty pleasure.
It was a absolute pleasure to see Liverpool put the game to Chelsea and see the visitors, who have a Champions League final in mind, crumble so completely. You could argue that Liverpool didn't so much play good as Chelsea were horrible in every position of the pitch, but that sells us far too short. Yes, Chelsea were horrible; but we actually were that good.
The passing was spot on. The movement was inventive. Players were fighting with the kind of spirit that we expect of our boys in Red. When Branislav Ivanovic crashed a free header against the post early in the first half, our shoulders didn't drop. Eyes weren't downcast. Instead of closing down, we moved the ball up the pitch. An immediate counter attack that was in such stark contrast to the sluggish buildup play we saw on Saturday, you would think we were a completely different side. In a way, we were.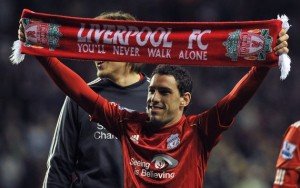 It's only a theory, but having nothing left to play for may have alleviated the expectations and the pressure placed on every Liverpool side. A goal only Suarez could create put us ahead and another defensive error from John Terry — who was nutmegged no less than 3 times in the opening half hour — allowed Henderson to double the lead. By the time Daniel Agger made it three, total capitulation of the visitors was playing out before our eyes. Even a missed Stuart Downing penalty couldn't dampen the mood. This was our last home match of the season, and we were going out in style.
Another set piece mix up allowed Ramirez — one of the few impressive players in Blue — to give the visitors a lifeline, but it wasn't to be. A poor clearance from Ross Turnbull gifted the ball to Jonjo Shelvey who made no mistake from distance to bury his half volley into the gaping net. Even with Roman Abramovich's deep pockets, his side couldn't buy a goal and the proof was on the pitch when Pepe Reina denied Romelu Lukaku's free header from only 5 yards out.
Dirk Kuyt and Raheem Sterling made brief cameo appearances to close out proceedings and the youngster came close to making it five goals from the home side with his first touch the ball. It's been a rarity that Dalglish has been able to blood youth due to his side carrying a comfortable lead rather than as a ploy to distract from poor results, but this result — as pleasing as it is — in the end is just that: a distraction.
Truth of the matter is that this result came months, if not mere days, too late. A domestic cup double could have saved our season from the rubbish bin of forgotten campaigns. A spattering of results, or even performances, like that could have dramatically improved our league form. Thankfully, this season closes out on Sunday with a visit to Swansea and despite the uncertainty that continues to swell around not only our manager but the players themselves, it was nice to close out our Anfield season with a big old grin. Really, it's been too long.
-steven.
Does anyone else think Florent Malouda was the architect of Chelsea's downfall last night? His haircut, the one that makes him look like a total tool, must have been distracting. Sorry Flo, only Djibril Cisse can pull those off…