We've Been Over This Before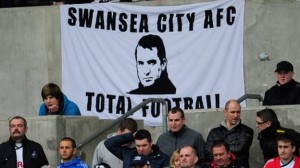 I've never been so glad to see a season come to an end. Not even during the arduous days under Houlier or the dark times under Rafa; this has easily been one of the worst seasons I can remember. Don't get me wrong, by Sunday afternoon I'll be patiently counting down to opening day whether we invest heavily in the summer or not. It's getting harder to write about Liverpool not playing for anything and trying to keep your head from exploding at the same time. Well, here we go again; we travel to Swansea on Sunday hoping to close this campaign off on a high note, but hardly expecting to head to back to Merseyside with anything at all.
Demolishing Chelsea after they robbed us of a domestic cup double was satisfying, I'll give you that. Still, was a serious case of too little, too late. We could have used form like that earlier in the season where a jumping off point, or any indication of life as we know it, could have done some serious good. Second last match of the season? Not a good place to start. Now, the scoreless draw with Swansea in back in November? That wouldn't have been so bad.
Following up a 4-4 draw with already relegated Wolverhampton with a 2-0 defeat at the hands of Manchester United isn't that bad a run for a promoted side. Especially a promoted side that no one, not even optimistic me, thought would be able to make a mark on the Premier League. Brendan Rodgers has now done what everyone expected out of Ian Holloway last season; not only survival, but doing it in style. With the Welsh side guaranteed another season in the top flight, and much like Kenny Dalglish, could weather the sophomore blues with a little squad investment in the transfer window.
After a tough season, it's going to be a long summer for the King — that is, if he survives long enough to see it. With only the Carling Cup in the cabinet and no top four finish, the owners will be taking a long hard look at both him and his staff. 34 points off the leaders, a point behind Everton and only 8 points ahead of our hosts on Sunday; those aren't numbers any manager, let alone the one in the Liverpool dugout, should be happy with. If Kenny does survive a trip to the gallows, he'll be doing some looking of us own. Starting with the players.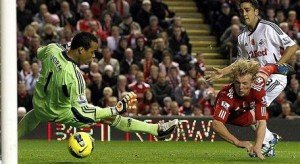 There's one player in particular he may be interested taking a second look at: Dirk Kuyt. The hardworking Dutchman not only loves this club, this city and it's people, he loves playing his football here. Still, our top scorer last season and full Oranje international looks to be creeping towards the nearest exit side after being kicked to the bench in favor of the new kids on the Kop. He may be ageing, and admitedly frustrating at times, but a number of suitors will be sniffing around and the decision to cut him loose or reign him in will be a controversial one among the fan base no matter how you choose to spin it.
Sunday may be Dirk's last game in the famous Red shirt, though we may want him on the pitch for his ability to defend more than his penchant, though not this season, for scoring goals. The Swans have been scoring all over the pitch from every position. Their defenders are strong on set pieces, their midfielders have a knack for getting into space and their strikers, unlike ours, understand that chances are hard to come by and make the most out of them. Though the much lauded Luis Suarez and Andy Carroll partnership has begun to bear fruit, it, like the pantsing of Chelsea, is coming a bit too late in the season to truly make an impact.
So, we have nothing but pride and the players have nothing but the incentive to keep their necks off the chopping block. One last time to remind the manager, whoever he may be come the end of August, why their worth their wages and deserve to wear the shirt. It'll be a cruel summer of some, but one we'll all be happy to see come….until next weekend when we realize all we have left to watch is the Euros and Californication re-runs. At least one of those will actually be entertaining.
-steven.