Skrtel Set to Miss Swans Trip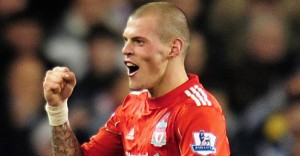 The season isn't even over and the News Desk is already being inundated with transfer gossip. Buried near the bottom of the Chelsea match report on Martin Skrtel's website, it says that the Slovakian international Captain will not be making the trip to Wales on Sunday for Liverpool's last match of the season due to a minor operation on a fractured nose. We never pegged Martin as the vain type, but a little elective surgery never hurt anyone. Well, not too badly anyways. Missing the last match of the season isn't that big of a deal, but the press has now also conjured up a storyabout the big defender handing in a transfer request this summer as he goes in search of Champions League football. It's a little early for speculation, but after a campaign that saw the Reds falter at every possible turn, it may not be too far from the truth.
Thanks to @JoeScouse_LFC for the link on Skrtel's page.