Steve Clarke Tips His Hat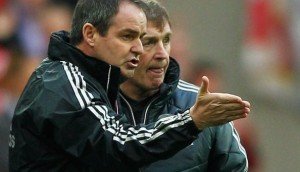 The Great Purge of Anfield continued yesterday when the club confirmed the departure of first team coach Steve Clarke. After initially declining his resignation after the sacking of Kenny Dalglish, the former number two was set free "on amicable terms". Speculation has been rife that Clarke's short time on Merseyside was coming to close as new gaffer Brendan Rodgers brought his backroom staff in tow after leaving Wales for the more lucrative pastures of Northwest England. The News Desk isn't going to take a punt at who's next up to the gallows, lest we be summoned ourselves, but this continues to get worse without following up with the expected better.
Transfer rumors? Yeah, we kinda miss those too.