Liverpool Kick Off at the Hawthorns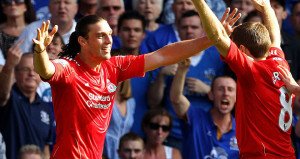 Liverpool kick off the 2012/2013 Premier League campaign by visiting newly appointed West Bromwich Albion, and former Reds number two, Steve Clarke at the Hawthorns Stadium on the 18th of August. Our home opener sees last years champions Manchester City come knocking on our door before a difficult September has Brendan Rodgers matching wits for the first time, as Reds boss anyway, with both Arsene Wenger and Sir Alex Ferguson. He'll have to wait until the end of October before getting his first taste, or smell, of Goodison Park and it'll be just shy of a month later until his first showdown with his former charges at the Liberty Stadium. The festive fixture list brings a reprieve from the big boys without a top four contender in sight, but regardless of opposition, playing 6 matches in one month is never an easy thing.
January is the flip side to September with visits to Old Trafford and the Emirates Stadium on tap before another visit to Manchester in less than a month will give Rodgers a chance to have another pop at Roberto Mancini. Tottenham at home and newly promoted Southhampton away will usher in the beginning of spring and should give us something to smile about before we have to put up with the Champions of Europe chants from a travelling Chelsea contingent. Another round with Everton will kick start May and the visit of QPR will round out yet another, hopefully successful, Premier League season.
All dates are subject to change and will be changed to fit television schedules, police requirements, domestic cup fixtures and the fancy of the Football Association. Hit the jump for the fixture list, as it stands now anyways, in full.
AUGUST
18 West Brom (A) 25 Manchester City (H)
SEPTEMBER
1 Arsenal (H) 15 Sunderland (A) 22 Manchester United (H) 29 Norwich City (A)
OCTOBER
6 Stoke City (H) 20 Reading (H) 27 Everton (A)
NOVEMBER
3 Newcastle United (H) 10 Chelsea (A) 17 Wigan Athletic (H) 24 Swansea City (A) 27 Tottenham (A)
DECEMBER
1 Southampton (H) 8 West Ham (A) 15 Aston Villa (H) 22 Fulham (H) 26 Stoke City (A) 29 QPR (A)
JANUARY
1 Sunderland (H) 12 Manchester United (A) 19 Norwich City (H) 29 Arsenal (A)
FEBRUARY
2 Manchester City (A) 9 West Brom (H) 23 Swansea City (H)
MARCH
2 Wigan Athletic (A) 9 Tottenham (H) 16 Southampton (A) 30 Aston Villa (A)
APRIL
6 West Ham (H) 13 Reading (A) 20 Chelsea (H) 27 Newcastle United (A)
MAY
4 Everton (H) 12 Fulham (A) 19 QPR (H)