Hillsborough Documents to be Released in September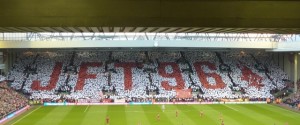 After more than 2 decades of waiting, a date has been set for the truth. Home secretary Theresa May confirmed in the House of Commons yesterday that the Hillsborough Documents would be released to the public this coming September 12th. After three years of scrutiny by an independent panel, we'll finally be able to discover the full extent of the corruption and lies government officials used to pull the wool over the eyes of the public. With the release of the documents, the families of the 96 could pursue legal action after reviewing the over 400,000 pages worth of secret files from 80 different organisations.
After some of the documents leaked in March, we got a glimpse of what's to come when it was revealed that a senior police official told then Prime Minister Margaret Thatcher than drunken, ticket-less Liverpool fans were to blame for the disaster. This is, of course, contradictory to the Taylor Report which found the main cause of the disaster to be the failure of the South Yorkshire police.
From the official site:
"The Hillsborough Independent Panel is now approaching the completion of its work of securing maximum possible disclosure of documents relating to the disaster and its aftermath.

"Disclosure, as it has been made clear, will be first to the Hillsborough families and then to the wider public.

"At the same time, in line with its terms of reference, the panel will publish its report explaining how the disclosed documents add to public understanding.
Although there was hesitation at first to release this confidential information to the public, British MP's agreed in October last year to finally release the papers unfiltered and uncensored. For all the campaigns, the boycotts, the years of never knowing, this is the end of a long, dark road. Closure is around the corner and the truth, the real one this time, is only months away.
–steven.