The good that came from the Euro
Steven Gerrard is still the man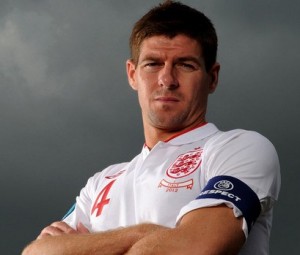 At the time of England's exit, he was in a 4-way tie for most assists. His free kicks and crosses were sublime and he absolutely bossed the midfield with the exception of the Italy match. The Italians were just in a different class and there's only so much one man can do. Stevie G stated that he will carry on as captain after the Euro:
"I've had a brief chat with the manager. I am available as long as I'm wanted at this level. The manager has told me he wants me to continue and carry on – and I'm there and available."
Andy Carroll silences critics
After the Geordie's inclusion in the starting XI vs Sweden, the whole country was practically begging Hodgson to play him with Rooney against Italy. Even rocker and avid Man City fan, Noel Gallagher, echoed the opinion:
"I don't think England can improve, they can only change the system and play Andy Carroll up front."
Hodgson eventually tried the pairing after Welbeck/Rooney failed to break through the Italian defence, but it ended up being a futile attempt. The midfield was never able to dictate play to give the forwards a chance.
And everybody else…
Glen Johnson was as solid at right back as you'd expect him to be. He had a few defensive lapses, but that is what happens when you have a guy defending who likes to go forward. It would have been nice to see Henderson and Downing get good time on the pitch and maybe produce some amazing moments to give their critics something else to talk about. Unfortunately, that just was not in the cards. I also have to mention the great performances Daniel Agger put in for Denmark. Then again, we expect nothing less from the man who is a must have in our back four.
The biggest positive from this tournament is that everyone is coming back healthy. I'm sure most of you felt the sickness in your stomach like I did when Gerrard went down during the Italy match. I thought for sure he was going to be injured again, but luckily it was just a cramp. I was really concerned when the match went into added time. The last time the squad played 120 minutes and then played a match 3 days later was the Carling Cup and it resulted in numerous injuries. It will not be a surprise if some of the Italian players limp off against Germany. UEFA really has the scheduling screwed up, giving the Germans an extra two days of rest is ridiculous.
On the transfer front, things have been extremely quiet. The club went from conducting business behind closed doors to conducting them in a secret underground lair. We'll get to see this summer's backroom activities on Fox Soccer Channel in the fall. But for now, it's kind of a pain in the ass for bloggers. Maybe no news is good news.
-CSD