Obama-style HOPE poster featuring Brendan Rodgers is a bad move by LFC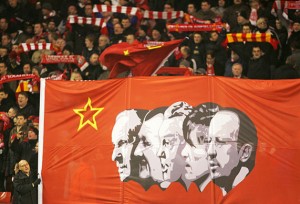 The club's official site for the North American tour recently posted a series of Obama-style posters of Brendan Rodgers and past managers. The word HOPE is under Rodgers while another reads BOSS. Many other managers are also honored in some way while Souness and Hodgson are understandably absent. The site encourages fans to use the same app from the iTunes store and to submit their own pictures to the club. If this had started as a community project I would shake my head and move on, but there are several things wrong with this type of publicity.
For years, Liverpool fans have created iconic banners to honor managers of past and present. Images of the likes of Shankly, Paisley, and Dalglish are common place and should be to recognize the contributions and successes of great men. The sentiment is very different though when it feels forced on you.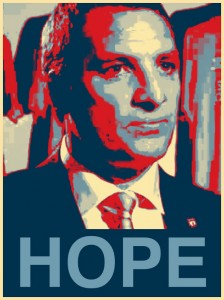 The first major issue is that it ties the club to American politics. Having Liverpool managers appear in the same manner, and even with the same slogan, on posters as the current American president is a little sickening. Why on earth would anyone want to make that association? President Obama isn't nearly as popular as he was before he actually went to work and having these things circulating while he is campaigning for re-election is quite annoying. Just because Liverpool is coming to North America doesn't mean we have to throw up red, white, and blue on every website and flyer published.
The other problem is that this originated with the club. When a new manager's picture is substituted in an iconic image, he is being over-marketed. It would be nice if Brendan Rodgers enjoys a long and successful tenure at Liverpool, however we do not need to place blind faith in him either. Sure, he is the boss and sure, we have hope, but he hasn't done anything yet. At the end of the season, the results will be the only factors to decide if he will one day be worth mentioning in the same conversation as other great Liverpool managers. Until that day comes, I recommend that we continue to be cautiously optimistic.
-CSD