Liverpool Confirm Capture of Fabio Borini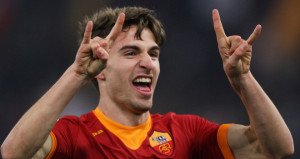 Maxi Rodriguez may have parted ways with Merseyside to return home, but the News Desk is going to turn that frown right side up by confirming that Fabio Borini has been brought in from AS Roma as new Liverpool boss Brendan Rodgers first signing. The talented Italian international is well known to the Gaffer having spent a handful of years in the Chelsea youth team and a loan spell at Swansea under his tutelage.
Although the club isn't confirming how much was paid out to for his services, the Northern Irishman believes Borini represents value for money and his goal tally in stingy Serie A justifies the backing being thrown his way. While the Reds endured a barren season in front of goal, Fabio saw the net bulge 10 times in 26 appearances and earned himself a call-up to an Italian squad filled almost entirely with veterans. There's a familiar mix of youth and expectation that comes with this signing as Rodgers looks to shape his squad for the coming campaign and FSG continue their long-term strategy of signing young, promising players.
Now that Borini is signed up, who's next on the transfer wish list?