LFC Tour in Brief: Here's an Excuse for Making Excuses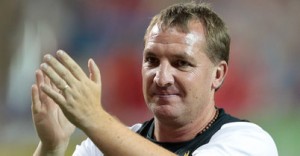 You could spend the next hundred hours running me through a thousand facts and figures; do it a million times over and you still won't convince me that pre-season is anything but a chance for the boss — especially one just taking charge — to begin finding his bearings. That's what this tour of North America was all about. Well, that and the usual stuff.
Building fitness, having a look at the kids, giving new players some time to bed into the squad and making some mad cash off the fans from across the pond; sounds like pre-season to me. It's not all that often that those of us living in North America get to see the Reds live, so, by having the squad jump the Atlantic for a series of matches in he New World, everyone is supposedly winning in one way or another — everyone but the team that is.
Keep Canadian Flags Scouse

Liverpool FC 1 – Toronto FC 1


My first Liverpool match and I could have asked for more — though, it would have been greedy to do it. Singing Old Scouser Tommy with @chimp_phil and the rest of the lads in the Rogers Kop, drinks before and after with @markdavo4 and a 1-1 draw with Toronto FC. Two out of three ain't bad, right? The first match in the hopefully long reign of Brendan Rodgers saw Jonjo Shelvey shine head and shoulders above the rest. Adam Morgan may have scored the goal to bring us level — and spare the boss blushes — but it was the England u21 midfielder who made the return of Joe Cole and Alberto Aquilani a completely moot point. Jamie Carragher marshaled the defence, Charlie Adam put in a shift and seeing Lucas get a run out was worth the price of admission alone. All in days work? Sure, something like that.

It's the first match after most of the fringe squad enjoyed a pretty decent break. In reality, a little more than a glorified training session — and it showed. You couldn't see the focus or the mindset that we need to truly galvanize a squad. No matter who you're playing, you should always be looking for that pass, that tackle, that shot — looking to win. We didn't have it and although in the end it doesn't matter, mental fitness is just as important as physical fitness. You can quote me on that.
Roma Tops Reds in Boston

Liverpool FC 1 – AS Roma 2

I really thought we'd see the Reds win at Fenway Park, but it would be AS Roma who would sneak away with the victory. Goals from Michael Bradley and Alessandro Florenzi left Liverpool chasing the match, before Charlie Adam salvaged a touch of pride with a consolation strike in the 80th minute. Although a number of the first team players — including Steven Gerrard, Andy Carroll and new boy Fabio Borini — joined the squad after their extended vacations following the Euros, there weren't many changes from the squad that drew with Toronto FC only days earlier. Despite the similar personnel, there was a slight difference that was noticeable for extended periods — they looked like they cared.

Maybe it was glimpses of the first team squad or it could have been something else. Whatever it was, something looked to have changed. Raheem Sterling didn't seem so wasteful in possession, Joe Cole almost opened his account, the outgoing Alberto Aquilani showed one or two of those ticking over passes that Brendan Rodgers would be keeping an eye out for and even Enrique, who looked terrible in Toronto, didn't utterly stink the place up. It might have been a loss, but it was a better overall performance against opposition that mattered and something to build on.
Boring Draw in Baltimore

Liverpool FC 0 – Tottenham 0

Maybe I'm being petty, but you expect pre-season matches to be played against opposition you wouldn't normally see. Playing Tottenham Hotspur in Baltimore? We'll already be lining up against them at least twice this season. Do we really need another meeting? It was a Premier League match with a less than premier result: a scoreless draw is nothing to write home about. Even the second half introduction of Steven Gerrard — who came on to thunderous applause from the travelling Reds — couldn't turn the tide. It would be grid locked and marred by Charlie Adam doing a hatchet job on Gareth Bale. Though it amounted to nothing and the Welshman, in typical fashion, made more of it than it actually was, this is what the press is going to remember.We can look forward to Charlie Adam grudge match tag lines in the near future, but we can forget about that for now.

Rodgers channeled Rafa Benitez post-match with the "if you can't win, don't lose" line, the squad got another decent run out ahead of their Europa League match with FC Gomel on the 2nd of August and Baltimore got a taste of the travelling Kop. Last season we would have taken a draw with Spurs without question and even though this doesn't seem quite as satisfying, it'll have to do.
If you feel a bit let down by pre-season, you're probably not the only one; but it's time to move on. Dwelling on three insignificant matches and expecting anything more than what we got isn't going to make a lick of difference. We've got a Europa League tie to contend with and another friendly with Bayer Leverkusen before the season kicks into full swing on the 18th of August.
There's still lot's of time for things to get worse. Trust me.
–steven.
Have you liked us on Twitter or followed us on Facebook yet? Did I get that wrong? You tell me…