Brendan Rodgers Starts His Anfield Career on a High Note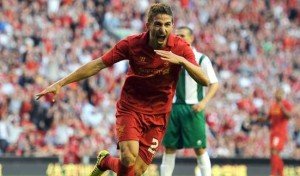 When we look back in the history books, this could be a night we remember fondly. Dominant throughout, a 3-0 victory against FC Gomel is, with all due respect, the way it should be. Brendan Rodgers takes charge for his first match at Anfield, fitting that it should be in Europe, and hears the roar of the Kop as the Reds progress comfortably into the next round. Fabio Borini scored on his home debut, Steven Gerrard added a second and Glen Johnson's nifty volley from 25 yards out capped off the slaughter. You always have to respect your opponents, lest you be scalped, but Liverpool have developed a maddening habit of playing downto the opposition. While a victory over a Belorussian side is hardly the type of victory songs will be sung about, it could very well represent a shift away from this unfortunate rut we've found ourselves in. To be fair, it's been long enough.
Anything but progression would have been a disaster. Rodgers is still wet behind the ears and it's going to take time to implement his vision; still, navigating this tie was hardly a bridge too far. A nervy 1-0 win in Belarus a week ago was a decent building block for a first match in charge, but the domineering performance last night left you with a comforting feeling of completeness. For all the football on display this summer — European Championships, Liverpool on tour and the Olympics — there's nothing quite like seeing the Reds go on the march in Europe.
Fabio Borini opened his Anfield account in the 21st minute with a first time volley short sided that caught Gomel 'keeper Vladimir Bushma by surprise. The Italian was lively in both legs of the match, though in Belarus, a lack of service stifled any real chance of us getting a good glimpse of what Rodgers first signing is capable of. Unsurprisingly, Steven Gerrard would add the second in the 41st minute with the kind of cool, composed finish we've all come to expect from the Scouse captain. Glen Johnson would round out the rout a picture perfect volley, but each of these goals had one thing in common that made each of them possible — Luis Suarez.
The Uruguayan just returned from Olympic duty before promptly signing a contract extension which saw him treble his wages and after his performance this evening, you'll have to admit that it was all worth it. It was a mazy run from the striker that forced the ball to fall at Borini's feet to open the scoring. It was an inch perfect pass from across the face of goal from Luis that put the second goal on a silver platter and it would be the Uruguayan that forced the FC Gomel defender into a hasty headed clearance that put the ball in the path of Johnson. Each goal scorer used his own bit of guile to ultimately drive home, but each would give credit where it's ultimately due.
Lucas and Jonjo Shelvey each put in a admirable, assured performance with a controlled midfield. Every time the ball was lost, we wanted it back and actively looked for it. Martin Skrtel and the newly tattooed Daniel Agger were largely spectators over the 90 minutes. Gone was the sense that we didn't quite know what we were doing. Stewart Downing and Jose Enrique both shook over their pre-season haze to look like the type of players they should be and Pepe Reina made two beautiful saves in a 5 minute span to keep a clean sheet, but we can't play FC Gomel every week.
There's no reason to put a damper on this evening. There's the very real possibility that a corner has been turned. Instead of playing down to the oppositions level, we made the match our own. There was a plan, and it worked. Though the match itself may not be memorable in the sense that it was a qualifier for a second tier competition, it could very be the one we look back on and say "…and that's when things started to get better".
–steven.
Like what you read? Give us a follow on Twitter or Like Us on Facebook. We're grateful people.