The Red Machine Continues to Gain Momentum After Defeating Bayer Leverkusen 3-1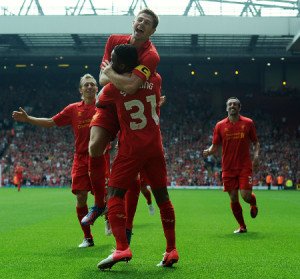 It was fantastic to see club legend Sami Hyypia back at Anfield and the Finnish coach brought with him a team that was the yardstick the Reds needed to measure themselves against. The German side played in a similar system as Liverpool, pressing high, with lots of short passes. It was a battle of the midfields for much of the match and Liverpool emerged victorious yet again.
Raheem Sterling received his first start in a red shirt and thanked Rodgers for the opportunity by scoring in just the 3rd minute. The youngster latched onto a well placed pass from Jose Enrique and beat the defenders to launch a beautiful curling shot on goal. Rodgers did a certain amount of rotating in the squad, resting players who just played Thursday and others who will have national team duties in midweek. Sterling's play was good on and off the ball and is definitely making a case for himself to be in the senior squad though he is still only 17 years old. Simply amazing. When I was 17, I was playing computer games and speaking awkwardly to girls. This kid is making fans worldwide. Another youngster making fans and impressing me every time I see him on the pitch is Jonjo Shelvey. He played well again today, making some impressive passes and a tackles. Rodgers would be crazy to loan him out.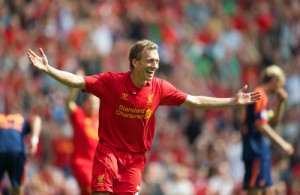 The best goal of the day came from Lucas. Yes, you read that right. Lucas found himself on the score sheet at 30′ after a very cheeky free kick. On the outside corner of the box, it appeared as though Steven Gerrard was going to tee up the ball for Stewart Downing. Instead of shooting, he made a short pass to Suarez he was closed down and looked to be a wasted effort. The Bayer defender was sloppy however and with the keeper away from the net, passed the ball directly to Lucas who as Rodgers said, was prolific from 6 yards out with the keeper away. Nate at ohyoubeauty.com said it best, "Matches where Lucas scored are simply better than other matches. Look it up. It's science."
Andy Carroll also found the back of the net at 65′. The Geordie, whose future at the club still looks to be anything but certain, functioned fairly well and was able to turn a back-heel pass from Charlie Adam into a screamer from the edge of the box that the keeper was unable to fully stop. Carroll looks to have a place in the squad, but the style of play certainly has to be augmented when he is at center-forward. Someone like Shelvey, who played RF in the second half, has to be able to whip in crosses to the big man, otherwise his heading ability is wasted.
Sidney Sam saved Bayer Leverkusen from ending the day without a goal. A nice passing sequence began with Carroll giving away possession and ended with a fantastic strike from Sam.
The squad looked solid as a whole and did not make any huge blunders. OK, Coates had an odd back-pass to Reina, but outside of that, play was decent. The passing and moving is still developing, but there are several players like Shelvey, Suarez, Gerrard, Lucas, Henderson, and Sterling, who are thriving under it. There is definitely something going on at Anfield. A different feeling is in the air and it is hard to keep my excitement in check and continue to be cautiously optimistic. At this point, I really do think that FSG made the right choice in Rodgers and thus far, his impact on the club has been phenomenal.
Unfortunately, Joe Allen was unable to take part in the friendly because his paperwork was not filed with the Premier League before 5 o'clock on Friday. Swansea could have issued a waiver, but they decided to be jerks about the whole situation. I guess you can't blame them after losing two highly rated midfielders. What is worse though, is that he has been called up for Wales and has to face Bosnia-Herzegovina midweek so he will have very little training time with the team if he is going to be selected for Saturday's match against West Brom.
Pre-season is now officially over, but the silly season continues. We will be keeping you up to speed on all transfers as they occur or threaten to occur. On a personal note, I want to thank all of you readers who continue to read our drivel. Steven and I have been doing this for four years now and it is definitely not for the money. Grubb joined us not long ago and has been helping to deliver quality content. We all do it for no other reason than we love the club and hope that someone other than us enjoys what we have to say. We're excited to be starting another season and will continue working our tails off for you.
-CSD