Statistical Profile: Oussama Assaidi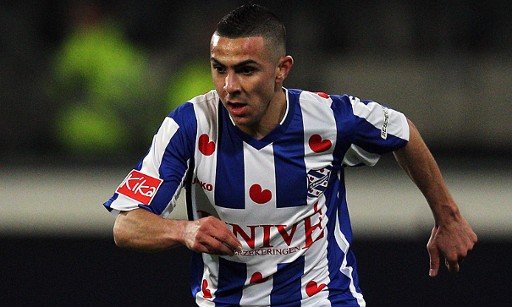 Name: Oussama Assaidi
Country: Morocco
Age: 24
Height: 1.78 m
Weight: 70 kg
Position: Forward 
The average reader is probably expecting us to write something along the lines of, "Oh yeah, Assaidi. We've been tracking him for months." The truth is none of us have heard of him either. We were just as surprised as you when news broke that Liverpool had completed a transfer, subject to medical, of Oussama Assaidi for £3 million. This is what we have been waiting for: good scouting that results in cheap signings. That is of course assuming that he is going to be a success. So how did he get here? The rumor floating around is the club failed to sign Cristian Tello on loan so they went with Assaidi as the backup plan. The forward had been heavily linked with a move to Ajax, but the Dutch club was unable to meet his wage demands.
Assaidi has spent his entire career in The Netherlands. The past two seasons at SC Heerenveen have been rather impressive for him.

Yes, yes, we know that the Eredivisie is not the Premier League and what a player can do there will not necessarily translate to results on the pitch in the EPL, however, 45% shot accuracy is nothing to thumb your nose at. Assaidi is a creative player who primarily plays as a forward on the left side. He is right-footed so that puts him as an inverted winger. Since Rodgers tends to like that sort of thing, it would factor into the reasons the manager had an eye on him.
Last season, Assaidi took a shot on average every 33 minutes. We can compare this to Clint Dempsey who plays the same position and has also been linked to Liverpool. Last season, Dempsey took a shot on average every 23 minutes. His accuracy was slightly lower at 41%. Not quite as good as the American, but not bad at all for a developing forward.
One thing that Assaidi does well is get into the box.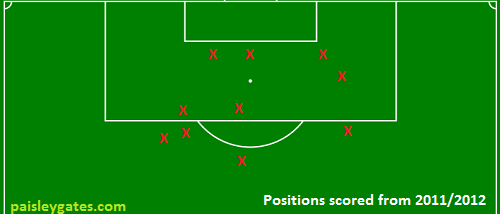 Six out of ten of his his goals last season were scored from inside 18 yards. The above graphic of positions where Assaid scored from last season shows his versatility. He may start out on the left, but he is comfortable cutting across or taking on the keeper from the middle. One downside is that he appears to heavily favour that right foot. Nine out of 10 of his goals last season were with his right foot, one with the left, and no headers.
A last bit of info is how Assaidi finishes his goals.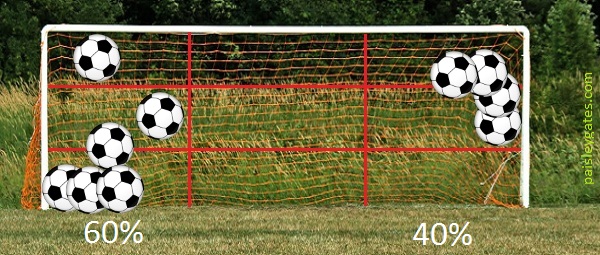 The Moroccan is skilled at keeping the ball near the posts. Most of his goals last season were in corners where any keeper would have a difficult time making a save.
A drawback of having Assaidi in the squad is that he is Moroccan and will be participating in the Africa Cup of Nations in January and February if Morocco qualify. They are favored to do so, therefor it is likely the squad will be without him for a number of weeks. He is also not the paciest of forwards. What he lacks in pace though, he seems to makeup for in creative dribbling and passing.
It is his highly unlikely that Assaidi will make an appearance this Saturday against West Brom. That would just be–well–stupid. On the surface, he does seem like a player that will fit in with the Rodgers system of play. For £3 million, he is definitely worth a try. If you would like to see Assaidi in action, check out the videos from the Dutch Premier League's website by clicking HERE.
One last thing totally unrelated, our Fantasy League is setup so if you want to have a crack at our bloggers go to http://fantasy.premierleague.com/ and create a team, then enter in our league code 79460-25934 under private leagues. Top prize right now is bragging rights unless a sugar daddy/mama comes along and bestows something upon us.
-CSD