A Season Preview; Or: Picture This, If You Will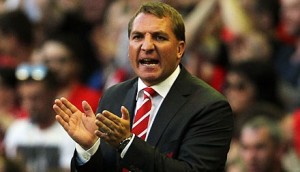 We no longer need to look for a frame with which to view this up coming season through; Liverpool chairman Tom Werner has already had the picture matted and a prime spot picked to hang it on the wall. In an interview with BBC Radio 5 Live yesterday, he said "It is critical we make the Champions League because there is so much revenue associated with that". There's your expectation in a nutshell. Former manager and club legend Kenny Dalglish was relieved of his job at the end of last season following a patchy campagin that saw the Reds bring home the League Cup and narrowly miss out on a domestic double when they were fouled up by Chelsea in the FA Cup final. The League Cup victory assured Liverpool a return to Europe, but finishing 8th overall meant that it would be for the wrong competition.
The appointment of former Swansea boss Brendan Rodgers raised some eyebrows after the North Irishman initially spurned the advances of Fenway Sports Group. A student of possession based, attacking football, Rodgers helped the Welsh side punch consistently above their weight all season long with wins over eventual champions Manchester City, an in form Arsenal and the club which he would leave to manage only a few weeks later, Liverpool, on the closing day of the season. Although Dalglish was sacked after doing "more than anyone else to stabilize Liverpool over the past year-and-a-half", Rodgers fully understands the task ahead.
"I'm under no illusion, there's a lot to be done. You can't hide away from the nuts and bolts, which is about hard work and honesty. It will take a wee bit of time to get it how we want it."
There's no denying that there would have been work to do whether Dalglish stayed or not, but with Rodgers at the helm, it feels like something has changed — though, it's not only in the most obvious ways. At times, it was apparent that there was no plan on the pitch. Whether things were going our way or not, tactics were a non-starter and it showed in every position, in every match, every time. This will not be the case moving forward.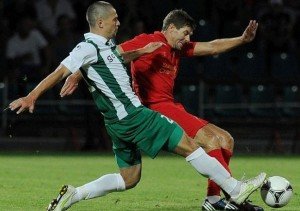 Managers who made their bones under Jose Mourinho and draw their major tactical influences from the current World and European Championship winning Spanish national side can only be described as ambitious. What we saw at Liverpool since the short reign of Roy Hodgson and during spells under Dalglish was football that was hardly worthy to be associated with the great pass and move sides of the 70's and 80's.
A new boss means a new vision. During pre-season, the players have been tasked with winning the ball back within seven seconds of losing it, pressing their opponents high up the pitch and turning each and every quarter into a danger zone. Rodgers game values possession above all else; if the opponent doesn't have the ball, how do they intend to score? Though this may stink of the Benitez policy of "playing to not lose", the short, precise, carousel style passing throughout interchanging midfielders gives hope for a new plan of attack; one that can find the back of the net on a consistent basis and turn matches that we should of won into matches that we did win.
Building from the back and retaining the ball has been a key aspect to the Spanish game and it's served them well with two European Championships and a World Cup victory in the last 6 years dismissing any doubt of the effectiveness of this strategy. The real question that lingers in the air is whether our players can carry it out effectively.
"There is lots of teaching, lots of hard work, many hours on the training ground to get there. There is a lot of courage by the players and a lot of bravery."
The return of Lucas Leiva to the starting lineup after spending a majority of last season out will be a major boon to Rodgers as the Brazilian proved time and again to be a pivotal cog in the Red's midfield. The capture of youngster Joe Allen, one of the standout performers in an impressive Swansea side last season, will also help bed in the Rodgers philosophy at Anfield with the Welsh midfielder already well versed in the style and culture of football the gaffer wants to employ on Merseyside. The pre-season tour of North America hardly re-assured the skeptics that things were indeed going to be different, but a 4-0 aggregate win over FC Gomel in the third qualifying round of the Europa League and a 3-1 friendly win over German side Bayer Leverkusen gave us glimpses of how the boss plans to play and left a smile on the face of even the most crashing bores.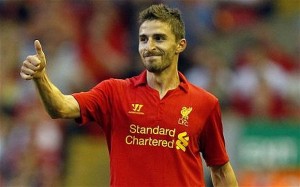 Our major problems last season came in front of net and Rodgers has moved quickly to address that with the capture of Fabio Borini from AS Roma. The Italian adds the kind of clinical, pacey, goal scoring menace we've been lacking since Fernando Torres left for Chelsea and though they've only played together for a very short period of time, appears to compliment the style of Luis Suarez, in a way that Andy Carroll never did.
The future of the big Geordie remains uncertain at this point, though it's understood that he would prefer to remain on Merseyside and fight for his place in the squad. The signing of winger Oussama Assaidi from Dutch club SC Heerenveen has re-enforced the belief that Rodgers will be looking for pace and fluidity from his attacking players and that 4-3-3 will be the way forward. There's been talk of one or two more signings before the close of the window and width has been an obvious place to plug the holes left by Dirk Kuyt and Maxi Rodriguez. While Glen Johnson and Jose Enrique are both good on the overlap, neither compare to a natural winger in the final third of the pitch.
The departure of Craig Bellamy to Cardiff City and Alberto Aquilani returning to Italy with Fiorentina have both been addressed with signings to fill the void, but the interest Manchester City have shown in Daniel Agger, and the flat out honesty that he could be sold, has been the most concerning bit of news to emerge from the transfer window thus far. Although it's been made clear from both the boss and player that Daniel staying on Merseyside is everyone's preferred option, there's still doubts that the defender — who recently had YNWA tattooed on his knuckles — will be plying his trade in front of the Kop come September.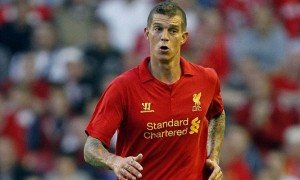 Though there's still time to sign a replacement, world class center backs are hard to come by, and finding one that is comfortable carrying the ball out of the back and contributing to the build-up of play could be a bridge too far.
Last years player of the season, Martin Skrtel, is close to signing a contract extension and Sebastián Coates remains a viable, though unproven, option as a partner. Club legend Jamie Carragher recently played his 700th match for the Reds, though his lack of pace and habit of being caught one step shy of those spectacular last second tackles we've all grown accustomed to may see him take up residence on the bench more often than he's used to. Though with Pepe Reina between the sticks, sometimes it doesn't matter who's out in front.
"Sometimes it is just a little change, working on people's minds, giving them confidence and the belief that wherever we go in the world, we are good enough to win the game."
It wasn't always a lack of confidence that did us in last season, but a true expectation that we should be winning every time we stepped out onto the pitch just wasn't there. We spent more time playing down to our opponents — dropping vital points against Norwich, Queens Park Rangers, Stoke City and a host of other sides — than truly imposing ourselves on the match and taking hold of proceedings. That's where both Rodgers and skipper Steven Gerrard should be coming in. Though Gerrard is getting up in years, he has the ability to dictate the outcome of a match. A true game changer and leader, it's time that the Scouse midfielder began making way — slowly, of course — for the kids coming up.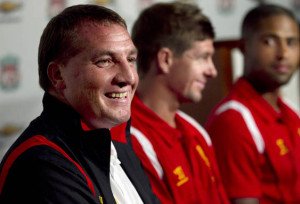 Both Jonjo Shelvey and Jordan Henderson have hinted at one day being able to step out from the skipper's long shadow and their ability to link up play between the back line and the strikers is something that Gerrard has an abundance of experience in. His mentoring can be a key factor in the development of these players and Liverpool's fortunes long after he's no longer playing. Consistently finding space and deadly positions takes years of practice and a clever footballing mind.
Jonjo in particular has shown that he has the single minded drive to run a midfield in the "engine room" style that Gerrard is known for and even in pre-season, most evident in the match against AS Roma, he's shown that he can drag the players around him forward. The skills a world class center midfielder needs have to be developed when they're young and although the Skipper should retain his key role in an advanced central position, if we have any hope of one day producing a replacement for our Number 8, we need to start working on it now.  Expectations from owners and fans alike are unlikely to lessen in the coming years.
Champions League football is the coveted prize come May; qualification is essential. It's unknown whether Werner's words should be taken as a warning shot — fired days before the season even begins — or a mission statement for the years to come. Whether Rodgers will be given the kind of time a Liverpool manager deserves is a question only the ownership can answer, but on the eve of a new campaign, forgive us, the fans anyways, if progress is all we ask for. Moving forward, building a sustainable footballing future both on and off the pitch and putting in the type of shift we all expect from Liverpool football club.
You do your part and we'll do our ours.
-steven.
That was one long post. Give us a follow on Twitter or a like on Facebook for shorter blasts of Red related musings.