WBA (3) LFC (0): Don't Leave Your Toys on the Floor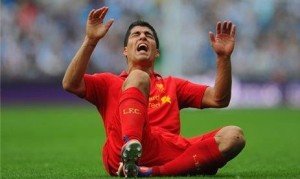 I'm sure Steve Clarke is spent yesterday evening smiling contently to himself. After leaving Liverpool at the beginning of June following the sacking of Kenny Dalglish, the former Reds number two took over at West Bromwich Albion after Roy Hodgson answered  England calling; and as the fates would have it, Clarke got to ruin opening day for a former colleague, and his former club, all in the same day. If the Europa League victories against FC Gomel and the spanking of Bayer Leverkusen gave us hope that Brendan Rodgers would hit the ground running, a 3-0 reversal at the Hawthornesshould be enough to give us pause, but not drown out the optimism we were doing so well to cultivate. If you check your calendars, there's still 37 matches to go.
Am I missing the point though? That's always a possibility. Things were a bit shaky in the opening minutes, with the visitors penned back until they could find a foothold. With the tides turning, and the Reds looking like the favorites to open the scoring, the obvious karmic kick up the backside came when Zoltan Gera put the Baggies ahead with an unstoppable volley from 25 yards out. Up until that point though, there wasn't much to complain about.
The signature Rodgers short passes were on display, we were moving quickly to win the ball back and pressing high up the pitch to fizzle out any hope of a slow buildup from Steve Clarke's men; at some points, it wasn't all that pretty, but it seemed to be working. To be fair, it all reminded you a bit of last year, with the Reds enjoying the lions share of possession and Luis Suarez running amok up front. The Uruguayan was creating chance after chance out of what looked to be next to nothing at all and if his finishing hadn't let him down, he could have had a hat-trick before Phil Dowd blew the halftime whistle. This, of course, would be where everything fell apart.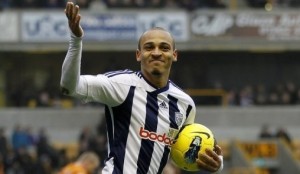 Daniel Agger would see Red in the 58th minute for pulling back Shane Long just inside the box after a clever through-ball from Morrison allowed him to sneak past Martin Skrtel. Despite the soft natureof the penalty and the Republic of Ireland striker going down under the slightest of touches, the big Dane was sent for an early shower and will miss the home opener with reigning champions Manchester City next weekend.
Rodgers would be given a reprieve when Pepe Reina comfortably saved the resulting penalty from Long, but Peter Odemwingie wouldn't make the same mistake after being sent to the spot only moments later. It would be Long who would once again draw the penalty after being fouled by Martin Skrtel on the edge of the box. It was another strange, soft call and it was obvious from this point forward that proceedings never were, and never would, be going our way.
Rodgers is now the 6th straight Liverpool manager to lose his opening match in the league. Romelu Lukaku, on loan from Chelsea, would add a third before the day was done, but the response from the Reds after dropping down to 10 men and 2 goals behind wasn't what one would hope for. With Lucas making way for Joe Cole, Rodgers wasn't about to give up on opening day quite as early as the rest of us. Joe Allen, who had a stellar first half and finished the day with a pass accuracy of 96%, went a bit quiet and without Lucas to hold the middle with him, began to fall apart. Cole would limp off injured with a hamstring problem, Fabio Borini was still looking for his feet in the 70th minute, the majesty of Luis Suarez began to wilt and even the Captain looked ready to call it a day.
By the time Lukaku confirmed that this defeat would be a rout,  everyone else was about ready to leave too; save for the Baggies fans of course. They may have ruined opening day for us, but there was more than one positive to take away. We saw a system in place. There was a plan; the tactics didn't disappear 5 minutes into the match. Changes take time and wasting yours while I rattle on about staying positive is downright rude, so let's cut to the chase.
It's the first match of the season. It's not time for hissy fits and temper tantrums. Quit moaning you big baby. Now, pick up your toys and let's go get some ice cream.
–steven.
Anyone who follows me on Twitter knows why this match reaction was delayed. Let me say this: Avion is awesome.