The Kids Against Manchester City: Looking at the Stats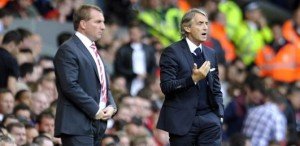 Liverpool boss Brendan Rodgers may say he has no complaints after drawing 2-2 with Manchester City at Anfield yesterday, but you get the feeling that he may have a small twinge of disappointment after the Reds were not as strong in possession as he would have liked. His call for Anfield to become a fortress echoed managers past, but while the pass and move ethos makes Liverpool a hard nut to crack no matter where they may be, his system values holding the ball above all else; the Reds could manage only 48.7% of it compared to the Citizens 51.3%, though every second of it was hard fought.
While we're still a while off from Rodgers preferred tactic of resting on the ball, the fact that the young side he selected against the defending champions contained six players under the age of twenty-three, you'd be fine to take a  moment of reflection. Impressive stuff to say the least, and thanks to EPL Index, we have the stats neccecary to take a quick look at 3 of those players.
Joe Allen

Joe's putting in work.

On his Anfield debut, Joe Allen put in a Man of the Match performance. The Welsh midfielder, signed from Swansea, is looking to be a steal at £15mil and yesterday against Manchester City he took a large step towards proving that he can cope even without the commanding presence of Lucas. To be fair, Joe is one of the only players that has worked with Brendan Rodgers in the past and knows his system inside and out. Even though it's still early, the youngster looks like he's going to be an essential cog in the Red machine.

43 out of 46 passes completed (93%)
didn't misplace a pass until the 2nd half
completed (100%) of his passes in our half and (85%) in the middle of the park
accuracy drops to (57%) in the more crowded final third
out of 57 touches, only 1 was misplaced
lost possession only 4 times in 90 minutes
Gerard and Shelvey lost the ball 29 times between the two of them
won (57%) of his ground duels, but only (33%) of his tackles were successful
for a player of only 5'6, he still won (25%) of his aerial duels
Sebastián Coates

Sebastian squares up to Mario.

The Uruguayan youngster did well to partner Skrtel in the heart of defense with Daniel Agger missing out through suspension. His height and speed were a major factor in his selection ahead of Jamie Carragher after the veteran played the whole 90 minutes in the Europa League Playoff match against Hearts on Thursday. Whether fatigue played a role or not is up for debate, but Coates put in a serious performance at Anfield yesterday that could cement his place as third choice going forward.

won 4 out of 6 tackles when the ball was on the pitch (67%)
the 1 time he was called into an aerial dual, he won it (100%)
less effective clearing the ball having only successfully cleared 2 out of 7 attempts (once with his head and once with his feet)
24 out of his 29 attempted passes found their mark (83%)
passed forward more times than any other outfield player on either team (55%)
most effective passes came from his own half with a (93%) completion rate
completed only 1 out of 7 passes in the final third
Raheem Sterling

The boss is a big fan.

If Coates starting over Carragher wasn't enough to surprise you, then seeing 17 year old Raheem Sterling preferred to £20mil Stewart Downing should be enough to bug out your eyes. We've seen the youngster mature in leaps and bounds since making his first team debut last year under Kenny Dalglish and after an impressive pre-season, he looks set to repay the faith the manager has shown in him. Though he's still too young to be consistent and may not be first choice for long, we'll certainly see more of him as the season heats up and the matches begin to pile on.

created 2 clear cut chances from open play
completed (80%) of his passes and 1 out of 4 crosses (25%)
found Fabio Borini with that cross and he came close to scoring
most importantly completed (81%) of his 13 passes in the final third
Suarez and Borini could only muster a number in the mid-sixties with 20 passes between the two of them
dispossessed only 5 times and showed a willingness to tackle back
won the ball back 2 times in midfield and 1 time in our own half
Six out of ten players on the field under the age of twenty-three. Give that some time to marinate up stairs and consider what these kids could do given the proper amount of game time and mentoring. Rodgers' willingness to blood the youngsters ahead of the more costly veterans will pay dividends in the future. Maybe not for all of them, greatness is only for some. This isn't a short term project.
If the owners give him time to develop a football culture, Liverpool can not only thrive, but employ a sustainable model for future growth. All that financial mumbo-jumbo will be discussed a few months down the road, but we saw something today that I hope becomes a hallmark of future Liverpool sides. We can't keep buying youth and letting them rot on the bench or in the 2nd team;
they need development, faith and chances at the top level.
Money is nothing. You don't buy a legend, you grow one.
–steven.
All stats and figures courtesy of our friends over at EPL Index. Check out the site and give them a follow on Twitter before you sign up.