Walcott? Dempsey? Sturridge? Improving LFC's Forward Options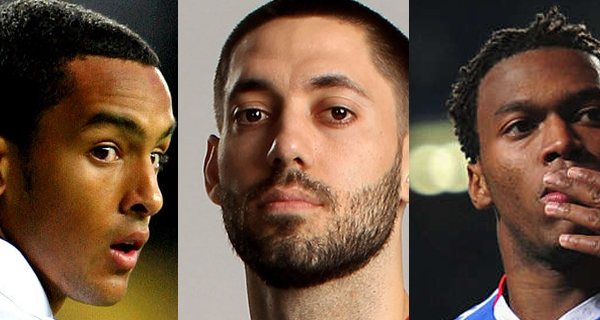 With our first point of the campaign now safely in the bag following the impressive-yet-also-somewhat-nervy draw with Manchester City, the attention returns back to the transfer window, with manager Brendan Rodgers keen to add to his slightly under-powered squad before the end of August.
"I would hope we could get some more players in. The players just need help. We lost players in the summer and we were only able to bring in a few to replace those. If we're going to strengthen, then hopefully we can get a few more in."

– Brendan Rodgers, 26th August
While the midfield and defensive group look solid (although another left-back wouldn't go astray), Liverpool still look quite light up top. The majority of senior players to have left the club (read Bellamy, Kuyt, Maxi) would all have contributed in the forward areas, and despite the addition of Fabio Borini and Oussama Assaidi to the squad, along with the permanent promotion of 17-year-old gem Raheem Sterling, there still seems a large gap to fill in terms of goals, assists and creativity.
Using OPTA statistics from the excellent EPL Index website, I aim to compare the contribution of our creative forwards and wingers from last season, along with three mooted additions to Brendan Rodgers' squad who could potentially be added to our attack: Clint Dempsey, Daniel Sturridge and Theo Walcott. Hopefully this will give a clear indication of whether or not these players can fill the boots of our departed heroes, and maybe set one target ahead of the others as a superior option.
Andy Carroll's suitability to the team and Rodgers' preferred style remains a question for long debate, and while I'll sidestep that one here, Carroll has been omitted from this comparison, mostly because he's a singular-role player, unlike the vast majority of the forwards we have. Which leads us to a very important disclaimer:
Wingers, wing-forwards, who cares?
Short of drawing arbitrary lines in the sand about what a winger is, whether or not Rodgers uses them, and debating the finer points of the inside forward position – I'm going to dodge all of that.
Rather than attempt to discern between who is a central & wide player, I'm lumping them all in together (minus Carroll) as the majority of the players are multi-role contributors who can shoot, create, pass and dribble. With some good signs in our performances thus far that central and wide players will be expected to move intelligently off one another and adapt to different positions throughout a match, the flexible, multi-purpose forward is king.
Unfortunately there are no stats for Premier League newcomers Borini and Assaidi, while Sterling's sample size from last season is too small to warrant comparison, so these three have all been omitted too. Hopefully 12 months from now I'll be writing an article praising the effectiveness of all three players.
Without further ado, let's get into the numbers, and what better place to start than the stats that win matches: goals and assists.
Scoring Contribution:

Everybody knows about Liverpool's woes in front of goal last season, and Craig Bellamy, the most effective scorer and assist-er who played regularly last season, has now gone. Add to that the departure of habitual goal-sneak Maxi Rodriguez, and we are looking for recruits with serious firepower to not only match the contribution from last season, but hopefully eclipse it.
Dempsey is the most prolific of the potential recruits, finding the net every 195 minutes, slightly more regularly than Maxi Rodriguez at 200 minutes per goal. Bellamy and Sturridge scored at basically the same rate, so at least in terms of goals, Sturridge could be a good Bellamy replacement. However it is Dempsey who most closely matches Bellamy's overall contributions, coming up with a goal or assist every 144 minutes. Walcott is the most effective assist provider with one coming every 343 minutes.
Shooting:



Far and away the most prolific shooter, Luis Suarez pulled the trigger every 23 minutes in the last campaign. However his low conversion rate of 10%, partially disguised by the abysmal rates of the dreadfully unlucky Stewart Downing and strangely ineffective Dirk Kuyt, means he requires more clinical partners around him. While Maxi played infrequently, he converted basically a quarter of his 17 shots into goals, while Craig Bellamy scored a goal for every 5 shots he took.
Dempsey and Sturridge both launched shots every half hour, and converted at slightly more respectable rate than Suarez, Kuyt and Downing. Walcott was the most likely to get his shots on target, however his conversion rate wasn't comparatively high despite his better shot accuracy.
Bellamy finished all 3 of the clear scoring chances that came his way, while Maxi slotted a respectable 57%. Kuyt and Suarez were two of the more wasteful clear chance converters, and Dempsey, Walcott and Sturridge all finished a better percentage of their clear opportunities than the Liverpool men.
Creativity:



Suarez was the most creative player, basically creating a chance for a team mate every half of football he played in, while Daniel Sturridge was the worst, creating a scoring opportunity only once every match. Walcott and Downing stood out with 28% and 26% of their created chances respectively being clear-cut opportunities that should have been converted by team mates – however Downing was to have no such luck last season.
Downing was also the player who most regularly created clear scoring opportunities, with Bellamy and Walcott the only players close to matching his frequency. Suarez was the top dribbler, conjuring 3 successful dribbles per game, with none of the other players reaching anywhere near his level of bravery or skill when running with the ball.
Delivery:



Bellamy is the standout here, his accurate passing and crossing a sign of his class. Bellamy and Maxi also matched Downing's excellent accuracy in final-third passing, and it's important the new players are equally adept at keeping the ball in dangerous areas for our opponents.
While Dempsey had a cross accuracy of 33%, he actually rarely crossed the ball, and I've considered his percentage to be far less impressive than Bellamy's, who consistently and frequently produced accurate crosses. Sturridge seems the weakest in terms of delivery, wasteful in the final third and unlikely to produce a worthwhile cross.
Off the Ball:


Suarez, amazing at winning possession high up the field, was also least likely to intercept the ball, his position not really suited to lurking in passing lanes. Bellamy's exceptional workrate saw him as the most regular tackler, although Dempsey was not far short of the efforts of Kuyt and Rodriguez, and was more effective at winning the challenges he made.
Effectiveness: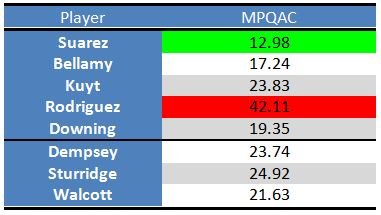 Using a metric to combine all of the aspects of successful attacking play expected of modern wingers and creative forwards, we can measure which players were most often involved – whether their strength is scoring, crossing or creating chances. The more abilities and strengths the player has, the more effectively they can contribute to an attack in a variety of ways, and the better they will have done in this comparison. Having divided the number of minutes played by the total of goals, assists, accurate crosses, dribbles, chances created and shots on target, we can see how often each player makes a Quality Attacking Contribution.
It's no surprise to see the shooting, dribbling, creative whirlwind that is Luis Suarez well ahead, producing a moment of attacking quality every 12 minutes on average. Bellamy, another multi-faceted, hard-working player, will be a big loss this season, and none of Dempsey, Sturridge or Walcott can match his all-round output, despite having their own strengths. Downing, a decent creator despite his low return of assists last season, also polls well, however the onus will be on him to greatly increase his output this season in the two key measures – goals and assists.
I'd love to hear your thoughts in the comments section below. What do you notice? Who would you go for? Which player would best replace what we've lost in Kuyt, Maxi and Bellamy? Will our scoring woes be solved with a new crop of forwards?
I eagerly await your thoughts!
-Grubb-
P.S. Another similar, probably-better-written article was also released today over at Anfield Index comparing Walcott and Sturridge to Downing and Suarez, so if you liked this article, get your eyeballs over to the other one by clicking here.
My advice? Hit up EPL Index for a membership, and also get this article circulating on your social network of choice. Be a man. Or a person of non-disclosed gender. Or something.