Lucas Injury Blow Ahead of Europa League Decider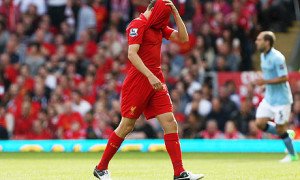 It's hard to talk about this; Lucas is out for between 2 – 3 months with a quadriceps tear. He had a slight problem ahead of the match with Manchester City, and when he was subbed off only 5 minutes after kickoff, things obviously got much worse. Hearts will be at Anfield later on today for their Europa League Playoff second leg with Liverpool, but the Brazilian will be watching this, and many matches to come, from the sidelines. Before I go on with the preview, if you feel like harming yourself or anyone else, please tell the nearest grownup. I know the football is important, but don't do anything you may regret.
Brendan Rodgers takes his side into this with a valuable away goal, while Hearts manager John McGlynn will be looking for a miracle. Liverpool may be favored to win tomorrow, but as the Scotsman said in his pre-match press conference, nothing is impossible. A week ago in Edinburgh, Hearts matched us inch by agonizing inch. We like to have a little joke about Scottish football and its apparently sub-standard quality, but no one was laughing after we barely made it out alive.
Tynecastle isn't an easy place to go; and neither is Anfield.
It's going to be a different story tomorrow, won't it? With the home support behind us and a 2-2 draw with the defending Champions boosting up the confidence, we'll be looking for this to end with a smile; and hopefully more goals. Fabio Borini was the main culprit last week in Edinburgh, missing more chances then I care to remember. The Italian striker is going to take some time to settle on Merseyside after joining up this summer from AS Roma and these Europa League matches can be crucial to that process.
Every striker needs some confidence and a bit of luck; Fabio hasn't exactly had either. In the grand scheme of things, he's only had a short time with the squad and a even less time with the ball in front of goal. Despite service being in relatively short supply, the boy is making all the right noises and if he can find the back of the net tomorrow, those noises could be music to our ears in the very near future. Rodgers likely won't stray from the usual Europa League recipe of youth, fringe and experience, but the visitors will be giving this all they have.
One goal leads can be overturned; we've seen it before, but we'd be loathe to see it play out today. We want Shelvey, Henderson and Adam to feed the ball up front. The midfield needs to be held down without Lucas and possibly Joe Allen. David Templeton and the pesky counter-attack that Hearts are so fond of can't be allowed to get moving, and if it does, Carragher and Coates need to be ready to quickly shift the ball from the front to the back. No, I don't mean hoof it forward; we've seen enough of that.
So we go in favorites to win yet nerves are jangling nonetheless. It's only the Europa League, but it still matters. Does it matter as much as the Gooners on the weekend? Maybe not to Rodgers, but it's safe to say that McGlynn sees things differently. Hard to say, but if Anfield is going to be the fortress that Rodgers wants it to be, we can't be selective. Man your battle stations, there's Scots breaching the north wall…
-steven.
Give us a Like on Facebook and a follow on Twitter. If you're into the tunes, check out our collaborative playlist on Spotify.