Liverpool (1) Manchester United (2): Less Than We Deserved Was More Than We Got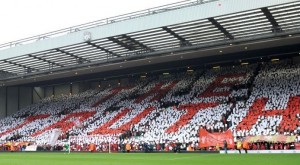 When Martin Kelly tweaked his knee in injury team to reduce us to 9 men, it no longer mattered; this wasn't going to be our first win of the season. Steven Gerrard found the breakthrough just over a minute after the restart with a nice as you like volley before a curling left footed strike from Rafael pulled the visitors level. Manchester United were handed a gift late in the first half when Jonjo Shelvey was dismissed under contentious circumstances and another present was soon to follow when Antonio Valencia was awarded a penalty that never was. Robin van Persie converts from the spot and two poor decisions turn into two major plot points. Despite the dominant display with 11 men and a serious shout when reduced to 10, United leave Anfield with all 3 points for the first time since 2007 and it only goes downhill from there.
Every meeting with United is important, but with the backdrop of the findings of the Hillsborough Independent Panel setting the stage, this one had a distinct difference. The pre-match festivities were well observed and the release of the 96 balloons, floral arrangements and mosaics did the families, the clubs and the supporters proud. There are many things more important than football, and it was nice to see this poisonous rivalry could be put aside, until the end of the match anyways, to honor those 96 fans that never made it home.
There were concerns before kick off that this might end up being a bit of a flat affair, but those were assuaged from the get go with Liverpool out of the gate like gangbusters. What followed would be 40 minutes of relentless pressure with chances for Suarez and Gerrard missing the net with a low drive by a fraction of a fraction. The breakthrough was on the cards until the unsurprising happened and we were reduced to 10 men.
A straight red for Jonjo Shelvey, who put in a standout shift against Young Boys in the Europa League midweek, left the kind of dominance that we were shelling out in doubt. With the youngster aiming a foul-mouthed rant, which he would quickly apologize for, at Sir Alex Ferguson as he left the field, the pack was reshuffled by Brendan Rodgers and to the surprise of many the Reds remained on top in both tempo and possession. Though we could see it coming for 46 minutes, our drive wasn't the only surprise when we took the lead only seconds after the re-start.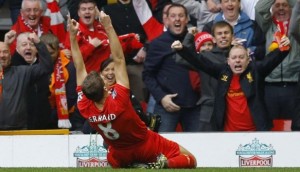 Fabio Borini picked up an ankle knock and was replaced by Suso at halftime and it would be the Spanish youngster who would kick start the go ahead goal with a dangerous cross into the area.
Glen Johnson would regain possession after a Rio Ferdinand clearance gifted the ball back to him at the top of the box. Some quick thinking and quicker footwork found the Captain all on his own. Terrible conversion be damned; a meal was made of chesting down and volleying home past a helpless Aders Lindegaard. A kiss to the badge and a slide across the grass with eyes and fingers pointed skyward; Gerrard's cousin Jon-Paul Gilhooley was the youngest of the 96 victims of the Hillsborough Stadium Disaster.
The lead, unfortunately, wouldn't last as Rafael curled an unstoppable left foot shot past a stranded Pepe Reina only 5 minutes later. With the strain of playing a man short starting to show, United began to regain a foothold through Paul Scholes and a bad flick from Daniel Agger ended with Antonio Valencia making a bee-line towards net. With Glen Johnson in hot pursuit, the Ecuadorian winger saw his opportunities to pass the ball dry up as he pushed into the box alone. What would follow would be a controversial penalty as Valencia began to tumble before Johnson, who miraculously made up the ground, even put in a tackle.
With Daniel Agger stretched off with suspected medial ligament damage, things would go from bad to really frickin' bad when Robin van Persie put United ahead from the spot. Two shots on net, two goals. Two contentious decisions, two major plot points. You knew the fightback was coming; we're all seen it before. Waves of attacks, pressure building and hope springing eternal until Martin Kelly's misdirected header turned out to not be the equalizer we were looking for. 5 minutes of injury time ticks by the Scouse defender becomes the next injury casualty with a tweaked knee.
Three injuries to three important players, a straight red card and we're back into the relegation zone. 2 points from 5 matches wasn't the return anyone expected and as September peters out, Brendan Rodgers is still looking for his first league win as Liverpool boss. Life, so it's said, is still unfair. The narrative continues as the new system is adopted and implemented — being the better team doesn't always guarantee the points. No one said this was going to be easy, but it's days like this where you deserve more than you get that make it that much harder.
–steven.
Two weeks on the bounce and Betegy is right again. Don't know what Betegy is? Check it out, have a punt and make some cash. Look for a full website review coming soon.