Another Grab at the Bag: West Brom Capital One Cup Preview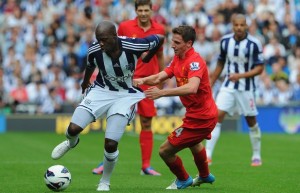 We had Young Boys in the Europa League last Thursday and Manchester United came to Anfield on Sunday, but this train isn't ready to slow down quite yet. It's the end of September and we're already on our way back to the Hawthorns for a Capital One Cup clash with West Bromwich Albion. If your memory hasn't failed you yet, you'll remember the opening day beat-down we suffered at the hands of Steve Clarke's men; it's going to be a few more years and a few more beers before we can forget that one. If you think back just a little bit further, you might remember winning this particular piece of silverware last year when it was called the Carling Cup. If we're the cup holders, we can't just go in there and capitulate can we?
Regardless of whether we're the holders or not, we can't just play dead; we're Liverpool and they're West Brom. That might not have the same menace as it did a few years back, but we're not the team that got mugged in the West Midlands on opening day. Fine, we still haven't won a league match and we're sitting in the relegation zone — still, we're ready for this one.
Last time we hit up the Hawthorns, we looked about as useful as a dug up corpse as the Baggies hit us for three unanswered goals to ruin Brendan Rodger's big day out. You could chalk that all up to beginners luck for former Liverpool number two Steve Clarke — that is, if their run of good form hasn't continued. Wins over Everton and Reading as well as a draw with Tottenham sees West Brom sit inexplicably in the top four. Let that sink in for a minute. They're in a Champions League spot and we're in the relegation zone.
Twilight zone league table aside, there's no reason to doubt our cup chops. After winning this tin pot and missing out on the FA Cup by a sliver last season, we know how to get these things done. Both sides will be looking to reshuffle their pack after a strenuous weekend took it's toll. Liverpool will be without Martin Kelly, who ruptured his his anterior cruciate ligament in the 2-1 reversal to Manchester United on Sunday. The defender is expected to be out for at least 6 months as he recovers and he'll be in good company — at least for a little while — with Lucas, Daniel Agger and Fabio Borini rounding out the injured list. Rodgers has been looking to youth to shore up a squad short on depth and we may see a similar squad to the one that downed Young Boys in the Europa League last week. Calculated gamble or giving less than a damn about this competition? You could argue that one either way.
While we're likely to see to see a mixture of youth and experience on the teamsheet tomorrow, if we play anything like we did on Sunday against Manchester United, we won't have much to worry about. Raheem Sterling and Suso both put in note worthy performances and Joe Allen once again made a claim for signing of the season with a steady display at the base of the midfield. Steven Gerrard netted our only goal of the match though the Captain will likely be rested for our meeting with Norwich on Saturday. The injury to Fabio Borini could force Suarez back into the frame, though Adam Morgan or Dani Pacheco could come in to keep the Uruguayan from over-heating the old motor too soon. Where the goals will come from is always a concern, but after shipping 3 against Young Boys and 2 against United, we're going to worry about keeping them out as well.
We'll have to keep our eyes out for Shane Long and Romelu Lukaku if we're going to make it through to the next round. The Belgian striker, currently on loan from Chelsea, has hit his stride in the West Midlands and was the catalyst in the win over Reading over the weekend. We've had some problems dealing with large, physical strikers and the absence of Daniel Agger will only compound this. Jamie Carragher and Sebastian Coates will likely feature, though that does little to settle the stomach. It's only the Capital One Cup, but losing isn't going to do us much good.
We could deal with one less competition to be fair. We've got a thin squad and despite playing for keeps against United on Sunday, this season is already taking it's toll. Not winning sucks for the fans, but it's even worse for the players. A win tomorrow will generate some positive momentum for the weekend and right now, we'll take anything positive that comes our way.
-steven.
Any qualified refs out there? Interested in how often the Man in Black get's it wrong? Check out Referee Decisions for the ugly truth.