It's Not Just Another Match: Manchester United Preview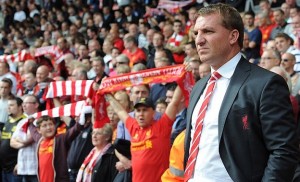 When it's Manchester United and Liverpool, there's never a lack of narratives. The match can be cast in a myriad of differing angles and tomorrow, being the first at Anfield since the findings of the Hillsborough Independent Panel have been released, the stage has been set for an emotionally charged meeting between these two old rivals. A primer on the past isn't needed; if you're reading this you know about Munich, Heysel and Hillsborough and all the grimacing bile that a small section of both sets of supporters will try to pass off as banter. While those of us in the real world know that human tragedy isn't something you add to an arsenal of already out of hand hatred, I'm loathe to say that we're both guilty of participating in this war of attrition. Starting tomorrow, hopefully, that will change.
The upper echelons of both teams have asked for calm ahead of tomorrow and for those that would bring shame upon their side to think long and hard before spreading their crass, unwelcome ignorance in the stands. Manchester United manager Sir Alex Ferguson — never a popular figure around Anfield — has personally written a letter to the travelling fans which will be handed to them as they enter the away end asking that the great rivalry that we share not boil over into personal hatred.
"Our great club stands with our great neighbours Liverpool today to remember that loss and pay tribute to their campaign for justice. I know I can count on you to stand with us in the best traditions of the best fans in the game."

-Sir Alex Ferguson
While no one is expecting everyone to hold hands and sing one joyous song, these small steps can go a long way towards mending fences left untended for far too long as tit-for-tat spats left a bad taste in the mouths of everyone — even those disconnected from either side. After all this time, the football has taken a back seat to anything and everything else.
It's supposed to be about the game, isn't it? Instead of all of these off-field talking points — as important as some of them are — the focus should be on the game itself and that get's lost in all the baggage that comes along with it. Brendan Rodgers looking for his first league win as Liverpool boss, Jonjo Shelvey and Raheem Sterling coming into their own, injuries to Wayne Rooney and Ashley Young, Steven Gerrard hoping to emulate Everton's early season victory over the Red Devils, Paul Scholes rolling back the years, the return of 8 first team players to the Reds after they were rested for a midweek trip to Switzerland — you know, football stuff instead of handshakes.
The Luis Suarez and Patrice Evra racism row has become the most recent flash point between the two sides when the Uruguayan was banned for 8 matches after he was adjudged to have racially abused Evra during this fixture last season. The reverse fixture at Old Trafford saw Suarez refuse to shake his accusers hand in the pre-match proceedings and the defender blatantly celebrate in front of the Liverpool striker after the final whistle. While the press is reporting that the hatchet will be buried with the pre-match handshake going to plan this time, the fact that this constitutes mention — let alone typing a full paragraph to tell you about two men shaking hands — shows that this fixture is a event unto itself.
While you can easily make the argument that the rivalry between the two cities extends farther back than the teams do, this hardly justifies the behavior exhibited by sections of both teams support. In a show of solidarity, Steven Gerrard and United capatain Nemanja Vidic will release 96 balloons prior to kick off in one of the many commemorations of those we lost at Hillsborough planned for tomorrow. While we all hope that no one on either side mars the proceedings with the kind of foolishness that has plagued recent meetings, that doesn't mean we should all sit with our hands neatly folded.
Rivalries don't have to turn nasty and we can take one large step to reversing the bitterness felt by both sets of fans tomorrow. There's no love lost between the two most successful teams in England and that's more than fine by me. No one said you we all have to be friends, but respect on a human level transcends what happens on the pitch. The game might be what bring us together — and despite protests to the contrary — there are things more important.
–steven.
Give us a Follow on Twitter or a Like on Facebook if you're so inclined.