West Brom (1) Liverpool (2): Vengeance is Ours, Sayeth the Kids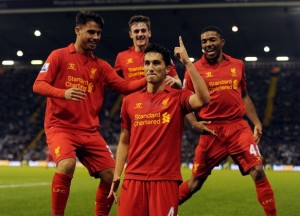 Before the match, Paisley Gates blogger @realcsd tweeted something along the lines of "If a depleted team wins, are they still depleted?" I've wondered that myself when someone, usually a manager who has nothing to do with the match itself, complains about one of the big swingers playing a side packed with youth in a competition they under-value against inferior opposition. Are they still doing something theoretically wrong if their side wins?
Now give a thought to what went down at the Hawthorns last night. West Bromwich Albion wiped the floor with a Liverpool side flush with multi-millionaire internationals on opening day, but when Brendan Rodgers sends a pack of kids — a supposedly depleted side — up against the same team in a Cup competition, we roll away with a 2-1 victory and a spot in the next round.
Our first real glimpse of Samed Yesil, an assist for Man of the Match Oussama Assaidi, Coates partnering Carragher in the heart of defence, Wisdom and Robinson keeping things tight on the flanks, Pachecho showing he desperately wants a part to play, and a brace for Real Madrid loanee Nuri Sahin. Before you ask wonder how this team team beat a high flying Baggies side, let me assure you that magic had absolutely nothing to do with it.
It's a bit strange when you're more surprised to see Stewart Downing and Jordan Henderson, both mainstays of the team Kenny Dalglish assembled last year, than you are to see 18 year old Suso. You'd think a Capital One Cup match against West Brom would be the kind of match the Boss would be looking for to give the youngster some more experience, but when the Spanish attacker came on in the 81st minute to play a crucial role in the winning goal, it became apparent that he was being saved for the league match this weekend against Norwich City.
So, Henderson and Downing start in a Capital One Cup clash and Suso sits on the bench because he needs to be fresh for bigger, better things. The world going sideways probably caused the first goal — a calamitous effort dropped by Australian keeper Brad Jones and gleefully tucked away by Baggies defender Gabriel Tamas — but when it finally righted itself, Ben Foster was on the receiving end of the tilt when he allowed a rather tame Nuri Sahin shot from distance to wiggle underneath him and level things up.
Yesil and Pacheco both had shots skim the woodwork as the Reds looked for a second half go ahead and the Baggies weren't looking at all like that team that shamed us on a few weeks ago. With the hosts ready to concede, Suso drew the eye and ire of 3 West Brom defenders before playing a simple — it's so easy to say things like simple when you're not the one surrounded by an angered opposition — ball through to Assaidi. The Moroccan winger's ghost in the box trick worked a charm and a low cross found a streaking Nuri Sahin who could teach a few forwards I know a thing or two about finishing.
Is it still a depleted team if it wins? While it's unlikely that we'll seen an unchanged 11 when we square up to Norwich on Saturday, it's nice to know that Rodgers can call on the youth, reserve and fringe players to do a job. Coming from behind is never easy, but they showed the kind of heart and desire you need to both build a future and foster a culture of competition. Those in the senior squad who've been resting on their laurels, you've just been put on notice.
-steven.
Give us a Follow on Twitter or a Like on Facebook if you're so inclined.