Luis Destroys Norwich: Videos and Stats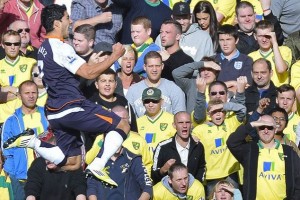 There's tactical purists who might say that Luis Suarez wasn't the best player on the pitch on Saturday; personally, I beg to differ. To me, scoring a hat-trick means you can take a stroll across the water while brushing off your infallible shoulders. If you don't put the ball in the net, you're not going to win — it's as simple as that. No matter how good the rest of the team plays, if no one scores, then it's as good as over.
A treble will always be a special memory no matter when it's scored and who it's against, but this one will be close to the top of the list after Suarez made Liverpool history by becoming the first player to find the net three times in the same away league fixture in successive seasons. With the season not quite going as planned, thoroughly demolishing an opponent is exactly what we needed and though we're all excited for Luis, the fact that he was the catalyst will come with a large smile for everyone, but hardly comes as a surprise.
Video courtesy of our friend @MoStarLFC
80% pass completion rate
83% of his passes were played in the attacking half
57% of his total passes were in the final third and 74% of the them were completed
30% of his passes were forward despite him being the player playing closest to the opposition goal

Created 1 clear cut chance was completed by Nuri Sahin
Attempted 11 dribbles, more than any other Liverpool player, and was successful in a respectable 55% of them

1 shot taken every 18 minutes
Took 6 shots total, 3 of them found the back of the net and 2 went off target and 1 was blocked for a 60% shot accuracy and 60% conversion rate

Stats courtesy of EPLIndex.com
We heard that @scouserlaura is throwing a party when Suarez get's a pen.
Scoring three goals is great, but scoring four is always better and had Suarez not been treated unfairly by the ref — something that's prone to happen one day — the Uruguayan could have left Carrow Road with one extra goal to his name. After boss Brendan Rodgers put in a call to referee chief Mike Riley about Liverpool having an extra-ordinary amount of calls going against them, there's now even more concern that the Reds will be less likely to get calls with the refs not wanting to look like they're bowing to outside pressure. Whether the Gaffer just wasted his cellphone minutes and made this whole process counter-productive, it hardly matters right now. Suarez scored three and he didn't need a shot from the spot to do it.
-steven.
You got some new peeps to follow on Twitter. Stop by @MoStarLFC, @EPLIndex and @scouserlaura on your way over to see us.