Liverpool (0) Stoke City (0): Potters Keep Reds Winless in Four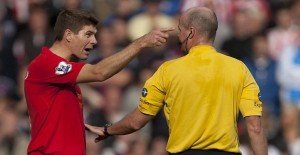 There's only so many times you can write about there only being so many times you can write this post. Liverpool are held to a scoreless draw with Stoke City and the renewed optimism that came flooding out after a Europa League win over Young Boys and a Luis Suarez hat trick at Carrow Road starts drying up. Dominance turns into nothing, an obvious penalty against Suarez goes unpunished before the Uruguayan takes a blatant dive, Stoke City pick up 6 yellow cards in 90 minutes, Brendan Rodgers praises the Reds conviction, Tony Pulis makes no mention of his side doubling as 80's strike busters; one point when we deserved three and all the talking points are pretty much the same.
Robert Huth stamped on Suarez before ten minutes were even played without so much as a whistle, and that would set the tone for the rest of it. Tony Pulis made a name for himself by assembling a big, brash, physical team and by golly his side weren't about to stray from the script. Not today and not anytime in the near future; a point at Anfield is the Potters bread and butter.
It took a little while, but Liverpool finally found their way into the match and, as per usual, kept the opposition camping in their own half for extended spells. It was no surprise when only 5 out of their 16 shots found the target and even less of a surprise when none of them found the back of the net. Gerrard's drive is a saved by Asmir Begovi?, Daniel Agger whistles one just wide, Glen Johnson whistles one over the bar, Martin Skrtel toe-pokes one off the post and Suarez, our main threat on the day, left his shooting boots at home. Five goals against Young Boys, five against Norwich and not a single one can sneak past Stoke; funny how quickly things go back to normal.
Four home matches this season and only two points to show for it; and we had the gall to talk about the top four earlier this week. You'd never know it from watching it, but when the final numbers were tallied up, Stoke actually had more possession than us. For all their back peddling towards goal, hanging on for all their worth, they left Anfield with 52% of the ball; yet only 5 shots the entire match. Something, evidently, isn't right.
Once again, we're thrown off our game. Kicked around, shoved down, bowled over and beaten up; we never did settle and our disjointed approach cost us another handful of points. Even top four teams struggle against the likes of Stoke. They're a side that is frustrating for everyone, but when the end of the season comes around, if you're up at the top looking down, that means you either found a way through or you made your own. Persistence is something this team has down pat, but kicking the door as hard as you can won't always knock it open. We need something else and we need it now.
-steven.
Before you ask, yes, you can like us on Facebook and Follow us on Twitter.