Just How Bad Are We At Scoring Goals?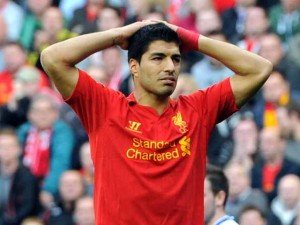 January is so near, yet so, so far away. Its proximity makes it tantalizing to those desperately dreaming of striking reinforcements in the mid-season transfer window; yet equally the wait is agonizingly distant, with plenty of ground to be covered and many games still to be played before the squad makeup can be altered significantly. With Liverpool struggling to score this season (aside from the 90 minutes of magic against Norwich in which we scored 5 of our 10 goals) the topic of discussion is back to chance conversion, shot accuracy, and just where Luis Suarez' best position is on a football field. In a game whose outcome is solely decided on the scoring of goals, the inability to score is a terminal failure.
Our new possession game sees us dominate the ball and create plenty of shooting chances, yet we seem unable to ever build a lead and ease the pressure on our defense – which has itself had to adjust to the new style and has subsequently been more porous than in previous seasons. Given the seemingly plentiful number of scoring chances we create, finishing seems to be the primary area requiring improvement. While it is somewhat of a chicken-and-egg scenario, I firmly believe if we can convert more of our chances, we can firstly move low defensive blocks out of position as our opponents chase the game, and also hopefully demoralize them through pressure and control. In turn this enables our defense to have less work to do, and hopefully allows us with a goal buffer for the majority of our matches. This is the gameplan Brendan Rodgers has preached, and I've personally seen enough to believe in its merits, even if the path has been difficult thus far.
Chance Creation
So firstly, let's examine the claim that Liverpool create enough chances to win their matches. Using the very excellent EPLIndex statistical database, I will compare the scoring chances created by each of the big clubs and our direct rivals, to determine whether or not we do stack up to the Premier League's elite in making opportunities to score. Note also the number of Clear Cut Chances created – these are high quality scoring opportunities and the more of these created, the more incisive a team usually is around the goal.


Immediately it is clear Liverpool's attack is not particularly penetrative when compared to other teams. While we have as many shots in total as most of the other leading clubs, we seriously straggle behind the pacesetters in creating simple chances with a high probability of conversion. Chelsea, City and United would be considered the benchmark teams, and >17% of their chances are clear-cut, and therefore far more likely to be converted into goals. Meanwhile, less than 10% of our chances are clear-cut, which sheds some light as to why our number of goals and assists could be comparatively so low. Adding further to our frustration, the only team with a comparably low rate of quality chance creation (Tottenham) has managed to double our meagre total of 5 assists.
Creating clear chances is one aspect of our attack that is sub-par, and in order to boost our potency, quality chance creation will need to be emphasized in future training and recruitment.
Finishing
So how bad is the actual finishing of chances then? How far do we lag behind our rivals, and what kind of gap are we aiming to reduce in the next few transfer windows? Again I've compared our finishing to top and/or similar clubs in order to understand how our stats differ from theirs and to derive any possible causes for our scoring malaise.

Once more we are clearly the poorest team of the bunch – so far – and have some serious work to do in bridging the gap. Our shooting accuracy as a team is distinctly average, as is our woeful conversion rate. Most alarmingly this problem is consistent with clear-cut chances, as we've only managed to score 2 of our 10 straightforward openings, whereas league leaders Chelsea have scored 10 clear-cut goals at a conversion rate of over 50%. If we can't score the relatively simple ones (which we create less of than our rivals) then that means we have to rely on more speculative shots from distance, which are no doubt a major contributing factor in our 72 shots off target already this season.
Clearly the ability to consistently create – and ruthlessly convert – clear-cut chances is strongly tied to league position. It is no accident we are so far off the pace already in terms of our points total in the Premier League. Despite our courageous displays and new-found command of possession, we are still not breaking teams wide open, we are not shooting accurately and we are not attacking with the quality our general play deserves.
The Solution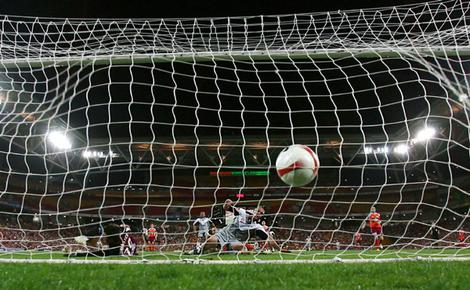 I tend to agree that buying goals – while an inexact science – is the only way forward for Liverpool. While we won't be able to afford a premium goal-scoring striker this January (read Falcao), there are certainly plenty of good, clinical strikers currently in their prime that would improve our conversion rate and hopefully bring us closer to the finished article.
I strongly believe we need a player in the 24-26 year old range, someone who can develop with the team over the next few seasons, but also someone that adds goals now. Borini has the movement of a very intelligent striker, but is clearly not the finished article, and perhaps needs more time than most players are given in light of his whirlwind lifestyle of constant moves over the past two seasons. His injury at least buys him time to settle in the city of Liverpool without the pressure of having to play, if any silver lining can be taken from the unfortunate foot injury that sees poor Fabio sidelined for the next 3 months.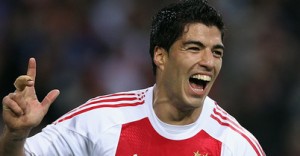 Luis Suarez, as clever and relentless as he is, does not offer the kind of accuracy and conversion rate that his peers at comparable clubs do. Where most top strikers are hitting +-50% of their shots on target, and converting at >17%, Luis Suarez is only placing 31% of his shots on target, and converting 13% of his chances. Suarez has had 6 clear-cut chances, but has only scored one of them, his contemporaries converting between 33-73% of their own clear scoring opportunities.
On the other hand, Luis has created 25 scoring chances, better than any of his counterparts at other clubs. 2 of those chances were clear scoring opportunities, and 2 of them were converted into assists by his teammates. This kind of playmaking ability makes Suarez easier to compare to players like Cazorla, Rooney, Mata and Hazard – creatives who can also score, playing off a front man from either central or wide areas.
If our goal scoring issues are caused by a) insufficient creation of high quality scoring chances, and b) an inability to convert a high enough percentage of those chances, then it appears moving Luis Suarez to a deeper or wider position is not just a good idea, it's a necessity. While he played on the left wing against Sunderland with mixed success, with Raheem Sterling and Oussama Assaidi both more comfortable left-side, and both having demonstrated an ability to penetrate with the ball, I'd be looking for Suarez to reprise his right-wing-forward role that suited him so perfectly at Ajax.
If Suarez did play wider, there would be less expectation of goals, meanwhile his extra amount of time on the ball would mean his creative statistics – the clever passes, the excellent crosses and those incredibly frequent nutmegs – would only improve. Having played the best football of his career in this free-ish right-sided role, it would make sense for both his own game and the overall function of the team if he was to work his magic from his favourite channel again.
Of course this all hinges around us signing a striker who is deadly enough to warrant moving Suarez wide. If we are to improve greatly in the second half of this season, a more lethal first option is needed. Just who that could be is a discussion for another day, and one I look forward to having.
Peace,
-Grubb-
If you enjoyed reading this convoluted mish-mash of words sometimes mistakenly referred to as an article, then please use the social network of your choice to recommend it to a friend.