A View from the Kop: Liverpool 3 Wigan Athletic 0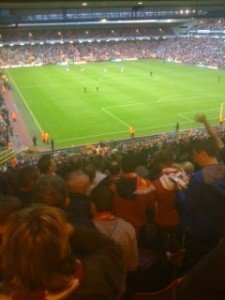 Walking to the ground yesterday there was a nervous feeling of 'not again'. The talk in the pubs before hand was of a 'must win' game, a real '6 pointer' and one that we 'had to win no matter what'. The apprehension and nervousness was apparent on the Kop too, as the strain of an 'indifferent' start to the season felt like it was starting to take its toll. The atmosphere on the Kop of late is very difficult to describe. There doesnt feel like there is a lot of belief with fans almost accepting to simply 'write this season off'.
The game kicked off and after the usual rendition of 'You'll never walk alone' the Kop quickly fell very very quiet. The nerves and anxiety only heightened by a very disjointed and poor opening period. The anxiety grew further when Suso was replaced by Henderson- much to the bemusement of the Kop- 'must be injured' was the conclusion. The first half passed, and aside from an effort from Enrique, a Suarez hit free-kick fired over the bar and a Suso header, the opening 45 minutes were 'forgettable' against a well organised and disciplined Wigan side.
The talk at half time was that of Wigan snatching a victory- we had been here so many times before under Rafa, Roy, and Kenny. The frustrations were starting to boil over. Then it came…… A great cross from Raheem Sterling and a predatory finish from 'our Luis'. Goal, game on, belief. The Kop was awoken from its slumber. The noise began, the energy spilling out onto the pitch as we now looked a completely different team. Jordan Henderson 'bossing' the midfield. Jose Enrique playing like a man possessed. We were on fire! A superb pass from Enrique and an equallly superb finish from Luis and it looked like game over. "I just cant get enough' echoing around the ground. Kopites who for the first 45 minutes were silent, now jumping around and shouting forward the men in red. It seemed fitting that Jose Enrique scored the third goal.Here is a player who has worked tirelessly, listened to Brendan Rodgers, and who really really wants to play for LFC.
We were in dreamland. We had won, at home, by 3 goals! The tension had completely gone, the songs were being sung, the Kop was a happy place to be.
'Liv-er-pool, Liv-er-pool' greeted the final whistle as the players left the pitch to deserved raptuous applause.I was happy, the Kop was happy, the people were happy.
Maybe, just maybe we can begin to get the faith back that sets us apart from other football fans. Maybe the words to our great anthem actually need to be listened to-cos this is Liverpool Football Club, the greatest football club in the world, with the greatest fans in the world, playing in the greatest place to play in the world. And as one, we support, no matter what……
–Rushjob9