Jose Enrique vs Wigan: Video and Stats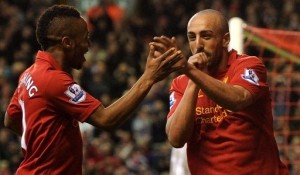 It's not like you really expect your left back to score a lot of goals; whenever the defense get on the score sheet, it's an added bonus. Jose Enrique, the archetypical attacking fullback, has been trying to find the net ever since his move from Newcastle last summer. Yesterday, he finally found it. Enrique has struggled to nail down a starting place under Brendan Rodgers, but he's now re-discovering the kind of form that made him a fan favorite in his first season on Merseyside. Injuries have caused a shakeup to the back line and with a right back playing left back, a center back playing right back and him, a left back playing as a left-sided attacking midfielder; it's easy to see why we've looked so disjointed at times.
Under Dalglish, Enrique was a lock to start each match, but as the grind of the season began to take its toll, what began as a bright start began to flicker out. Unfortunately, it would be that less than confident player that Rodgers would find when he took over at the beginning of the season. With injuries leading to disorganization and improvisation, Enrique has begun to re-discover the kind of form that made him a firm favorite. He's not running at full throttle yet, but looking at some stats from his last 3 matches — in which he played three different roles — we can see that his diversity is almost as good as the numbers he's putting up.
Stats courtesy of EPLINDEX.com

Against Wigan, Jose was pushed farther forward as a midfielder and his first goal for Liverpool and his assist for Luis's second shows what he can do when put in a more attacking role. Four chances created 10 entrances into the penalty area and a decent 71% pass accuracy in the more crowded final third all speak to his ability to find space and create it for those around him.

In the match with Chelsea, Enrique was deployed as a wingback and though he found himself in the attacking half quite a bit, he had more defensive duties to contend with he handled with aplomb; winning all 7 of his tackles and stealing back possession 11 times was coupled with his more attacking tendencies in which he found some time to have a shot on net and make sure 71% of his passes were made in the attacking half. Wingbacks need to balance their duties on a knife edge and though he frustrated at times, he impressed on just as many occasions.

When his former club Newcastle darkened our door, Jose was employed as a more traditional left back, though he was given his normal license to push forward and overlap his winger. His assist for Suarez's mind melting winner would be the best remembered moment of the match, though his 83% pass accuracy in the final third would pile on the pressure on his former side and his 3 tackles would help keep things tight at the back.
Video by the supremely talented and humble @MostarLFC
With our over reliance on Suarez putting us in an awkward position, we have only two options: get him the ball or find the net yourself. In the past three matches, Enrique has done just that. Even if some parts of his game are maddening — and downright dangerous for us — assisting on two of the Uruguayans four goals and finding the net himself is considered a job well done.
While he may not be an automatic starter each and every time the team lines up, at this point, it's important that any player that can find the net find their way onto the pitch. If we're going to climb the table, we're going to need Enrique — and everyone else — to keep turning in performances worthy of the shirt. Match over match, Jose has been doing just that.
-steven.
Check out EPLIndex.com for all your statistical needs and give our boy @MostarLFC a shout in the Twitterverse.