Where Are You Wearing It?: Liverpool Home Kit Review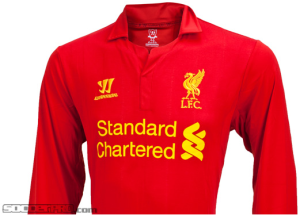 Let's be fair: most people who've bought a football kit this year aren't wearing it while they play football. It doesn't matter who you support; the likelihood of you wearing that shirt out on the pitch — professional or otherwise — is pretty low. We're buying the shirt to support our team and fly the flag. This is our tribe and now you know it. But what, exactly, are you doing in it?
Despite all the little details, they're usually not all that fashionable. You're probably not wearing it to work Monday morning. Your mates aren't all that chuffed when you turn up to their fancy dinner party in it. Sporting it in the wrong end of town could result in a stomping –- tell me again when you're wearing this thing? Our friends at Soccerpro.com sent us over the new Warrior Sports long sleeved Liverpool Home Shirt so we could try to answer that question and maybe a few more. After wearing it in a variety of situations, for a variety of different activities I think we might have some answers. Maybe. Kinda. Sorta.
Out for a Run

I was somewhere in the back…

Verdict: This shirt is designed for dudes that are going to be running around for 90 some-odd minutes, so it wasn't that surprising that it fared quite well during my runs in it. The ventilation kept me cool, the Warrior War-Tech technology fabric kept me dry, and even after leaving it crumpled in ball for a week, it didn't smell; to be honest, by the end of a 10km run, I smell dirty underwear. You may want to wear a base layer underneath it if you're going to be running for an hour plus since I found that you'd start to notice the embroidered logos after the first half hour, but this is just a small niggle for an otherwise fantastic option.
On a Date

Toss some tweed over that kit…

Verdict: Football shirts have never been on the cutting edge of fashion, but the designers over at Warrior did an excellent job with this one. Its cut slim enough that you can toss a sport coat over it, the collar gives it a slight edge over the traditional crew neck football shirt, the newly designed crest catches the eye and after three trips through the washer / drier it hasn't faded or lost its shape. The blending of modern fabric with traditional styling gives it that classic look that Liverpool kits have been lacking for a few years now; still, you might want to leave this at home if you want to make an impression. Honestly though, I've seen dudes dressed a hell of a lot worse.
Getting a Round In

What was in that drink?

Verdict: What's better than sports and booze? If you want to argue this point, I suggest you go elsewhere and avoid my pub altogether. Sometimes it's not appropriate to fly the flag — like when you're drinking in enemy territory — but when you're surrounded by familiar faces, there's no better place to pull this kit on. That amber yellow Liverbird is going to turn heads on the dance floor, the beer you spill on it is going to be quickly absorbed and prevent you from looking like a schmuck, the curry smell from your take-away won't be seep into the fabric and it's not going to get all stretched out of shape when you try in vain to pull it over your head. Go out and Friday night and come home on Saturday morning.
Thwarting Burglars

Kevin is up for some Anny Road aggro…

Verdict: Whether you're smashing them in the face with paint cans, tripping them up with Micro-Machines, heating up the door knob or icing the front steps, the new Liverpool home kit isn't going to help you out all that much. While I'm not advocating violence, you could always just call the police and lock all your doors. While you're waiting for the coppers to swing by the flat, you can get the rest of your Christmas shopping done over at Soccerpro.com while someone gets grievously injured on your property. Hope you have insurance!
Thanks to our friends over at Soccerpro.com for giving us the opportunity to review the long sleeved version of the new Liverpool Home Shirt. Even though you might not be doing any of this junk in your shirt, I'm sure you can find something to do while supporting your club.
-steven.
Get social with Soccerpro, Warrior Football and Paisley Gates on the Twitter.