Brendan Rodgers Will Have Our Revenge on the Lane: Tottenham Preview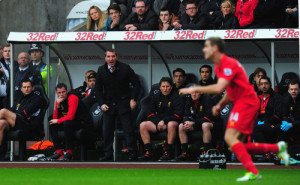 We're used to midweek matches by now; at the beginning of the season, I was lamenting our return to Europe with some serious romanticism. With this Europa League thingy taking its toll, my attitude has changed slightly — but this Wednesday won't carry the same kind of disinterest and apathy that we're becoming accustomed to — this one means something.
In case you've forgotten, the last time we went to White Hart Lane: Luka Modric made our midfield look as average as can be, two red cards reduced us to nine men, Emmanuel Adebayor scored a brace on his home debut, any glimmering hope of a push for the summit was extinguished and four unanswered goals left us reeling for weeks to come. In short, I want revenge.
We keep saying we need to build on previous performances — we're unbeaten in eight matches — but after the dour scoreless draw on the Gaffers return to the Liberty Stadium, it looks like we're still trying to get a loan for materials. There was little to separate the sides as two very Rodgersesque teams cancelled each other into oblivion. A Jose Enrique goal ruled out for offside was the closest either team came to breaking the deadlock, but the Reds can take heart in their defensive performance as Daniel Agger and Martin Skrtel kept an attacking Swans side at bay.
In contrast, Tottenham broke a three match win-less streak with a 3-1 win over local rivals West Ham United at the weekend. Jermaine Defoe sandwiched a brace between a Gareth Bale strike as the home side took the Hammers to the cleaners. Ironically, it would Andy Carroll — Liverpool's £35mil man who's spending the season on loan in London — that would score his side's consolation goal as the clock ran down. The Reds, languishing in the wrong half of the table, are still only four points off their hosts and a win in London would boost their hopes of rolling into the all important next few weeks with their heads in the right place.
It's relieving to know that new Spurs boss André Villas-Boas is not the Messiah; we were heavily linked with a move for the Portuguese manager during our hunt for Kenny Dalglish's successor during the summer. The former Chelsea boss was looking for a "project" and at White Hart Lane he seems to have found what he was looking for; despite Spurs getting the better of us in recent seasons, their very much a side in transition after stumbling their way through the close of last season and losing some important players in the summer. Still, the London side are continually punching above their weight and pull results where you'd least expect; exactly what we need to learn to do.
Tomorrow, at White Hart Lane, would be a great place to start. Luis Suarez remains our most potent attacking threat with his 10 league goals, though fatigue has become a major factor as the season wears on. Steven Gerrard, Raheem Sterling, Joe Allen and the Uruguayan marksman are all feeling — and showing — the strain on our thin squad as we get bogged down in the weeds. Brendan Rodgers has been quick to dull expectations for January; player recruitment, especially a striker, has been on our lips since the summer window closed, but it's hard to tell whether this is a realist speaking freely or if the feints within feints have started already.
Winning as many matches as possible is always the aim and getting out of London with full points continues to be the priority and this, despite suggestions to the contrary, is a winnable game. The festive fixture list is upon us and the matches won't be slowing down anytime soon. Now's the time to claw our way out of the wrong half of the table; an eight match unbeaten streak isn't all that good is you're only racking up one point at a time. Let's make this one count and get some revenge while we're at it, shall we?
–steven.
Haven't picked up the new Liverpool home kit yet? Read our review right here and then head over to Soccerpro.com and get your own.