Don't You Come Around Here No More: Swansea Preview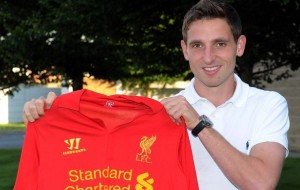 We're undefeated in 7 Premier League matches on the trot and still it seems that we're always trying to get back on track or work our way out of a hole; Sunday against Swansea, it's going to be the same old story. It's safe to say that you can always go home, it's just never easy; I'm sure Rafa Benitez will find this to be true if he survives in the Chelsea hot seat long enough to make an Anfield return, but we have other, more important things to concern ourselves with for the time being. Trips to the Liberty Stadium have been daunting for each side that's made their way to South Wales over the last season and a half, but when you're Brendan Rodgers and Joe Allen, this particular jaunt takes on an even nastier edge.
Both manager and player will be returning to the team they left over the summer under less than favorable circumstances. While Rodgers initially spurned the advances of Liverpool to pledge his future to Swansea, there was hardly a question of whether or not Joe Allen was on his way. While we'll all be traveling with a serious case of the nerves, the Swans will be undaunted by the visit of the famous Kopites. Michael Laudrup's side haven't exactly made the Liberty Stadium the type of fortress every side expects their home to be, but they have had the Reds number each time the two sides have met — most recently, a 3-1 reversal at Anfield saw Liverpool knocked out of the Capital One Cup on a dour autumn evening.
The League Cup is one thing and with a side packed with youngsters the result wasn't a huge stretch. Rodgers has drawn a line in the sand and we know where our priorities lie; the league is paramount — though that fails to brighten up the picture at all. In our last two league meetings, we've failed to find the back of the net — that statistic isn't that surprising given the circumstances, but when we last met in the league, the Swans were just a plucky promoted side tipped for a quick trip back from whence they came. That, as we all know, was not the case.
Rodgers may have worked miracles with an unfashionable side from Wales, but since he left, they've been getting on just fine without him. As the season segways into the all important festive fixture list, the Swans sit one point above Liverpool in 10th place with both sides looking to claw their way up the table. The Reds ran out to an impressive 3-0 win over Wigan last weekend in which Premier League top scorer Luis Suarez recorded a brace, but surprisingly, Swansea also have a horse in this race with potential signing of the season Michu keeping pace with an impressive 7 league strikes. The side from South Wales haven't kept a clean sheet in their last 10 league matches, though Liverpool hasn't fared much better.
It was only Thursday when we twice let a lead slip away in the Europa League to draw 2-2 with Young Boys and leave our advancement to the Round of 32 in doubt — though both goals, which I'm sure you've seen, were impressive strikes in their own right. Having Pepe Reina back between the sticks has been enough to settle down a back line that's had its share of upsets this season and, with no disrespect to Brad Jones who did a fantastic job standing in for the Spaniard, experience is exactly what we're going to need to keep the Swans at bay; a win tomorrow would be our first back to back victory in the league since December of last year.
If you really think about that, it's been too long. We're always trying to build, always trying to dig our way out, always playing catch up because we can't get a good run going. That's not likely to change tomorrow; don't get me wrong, we can beat Swansea and get out of Wales with 3 points, but in the grand scheme of things, these kinds of things don't turn around that easily or change at the drop of a hat. We're building, we're digging, we're kicking the stuffing out of everything in our path — Swansea tomorrow, and we start all over again after that. Practice makes perfect and the more we win, the easier it'll get.
-steven.
Get social with our media and give us a follow on Twitter or a Like on Facebook.