A Fit Lucas is the Missing Piece of the Puzzle
Much has been and will continue to be written about the transfer business done in January. When results are not optimal, the knee-jerk reaction is to buy more players or fire the manager. Brendan isn't going anywhere and has played down the amount of money the club is willing to spend in January. So, where does that leave us? The good news is that as far as league form goes, the team has stopped losing. The next step is to start winning. We already have the players needed to provide the catalyst of a winning formula, they just need to stay fit.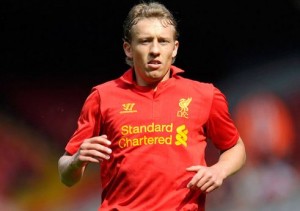 Lucas will return soon and that will be a huge boost to the squad. The Brazillian, who was groomed into one of the best holding midfielders in the league, has been absent for practically the entire campaign under Rodgers. In a candid moment with Jonjo on Being: Liverpool, Brendan mentioned his plans for him as well as the team. He wanted to have Lucas, Allen, and Gerrard in the midfield, with Jonjo learning to take on a #10 role. This would provide a holding midfielder with two play makers able to create chances for the forwards. Unfortunately, the plan has never been tested because of Lucas' injury. Gerrard has been providing the balls to create chances but has also been taking a deeper role at times due to Allen's lack of skill at playing as a defender. Don't get me wrong, without him we would really be in trouble, but it is not natural for him to be prevented from moving more freely.

As the numbers above show, Allen has been held back this season and unable to contribute to the attack as he is capable of. He is a box-to-box midfielder who has been shackled to a central position, but that will soon change. During his last injury free season in 2009-2010, Lucas led the league in tackles. Joe Allen was third in the league last season, so he certainly has that as part of his game, though the team is currently missing his attacking prowess. Currently, we need Joe Allen to be dribbling forward and controlling the play in the final third with Gerrard to free up the forwards. We definitely need another striker or two, but the ones we currently possess will have a much easier time at finding the back of the net if they can have an extra man in the run up. With Sterling and Suarez's partnership developing and the rebirth of Enrique as a winger, the league form should be trending upwards and the draws will turn into wins.
The most important business has already been done and it will not be the end of the world if the team does not add Theo Walcott or Daniel Sturridge in January. Personally, I would trade a Walcott or Sturridge for a fit Lucas any day. In this system, a true defensive midfielder is key to throwing more bodies forward to create chances. At that point, players like Gerrard and Shelvey will be able to contribute to the score sheet. It's hard to score when you're the guy who always has to make an important pass.
At this point, there still is no clear substitute for Lucas. Allen has done well enough, but then we are left without another midfielder who can spark creativity. Nuri Sahin was supposed to be that player, but has so far been unable to find the form which made him famous at Borussia Dortmund. If his form continues to be meh, he will no doubt leave after his loan spell and we will probably still have a hole to fill. Jay Spearing has had some decent games at Bolton, so him coming back as DM backup is a possibility. There is also the possibility that Henderson will continue to improve and fill the attacking role that must seem alien to him after being played out of position for so long. As always, the future is rife with variables but the importance of a midfield with Lucas, Allen, and Gerrard is certain. The next few months should be very exciting.
-CSD
You can follow me on Twitter or show how much you like the site by clicking the Facebook thingy.