When the Saints Get Marched On: Southampton Preview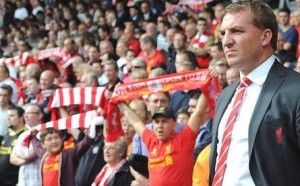 These are the kind of matches we need to win; the 2-1 reversal at Tottenham on Wednesday is behind us now. There's nothing we can do about it so it's time to let it go — but there is something we can do to improve our lousy league position; we need to trounce Southampton.
Trounce is a harsh word — how about beat? We're going into December in the wrong half of the table and no one wants to be here now. Unbeaten in eight matches quickly turned into one win in six attempts and the best we can hope for is three points. It's not the ten points that would make the first half of the season bearable and it might not be the turning point we've all been keeping our eyes peeled for, but good runs have to start somewhere and there's going to be no better place to start than at Anfield on Saturday.
When you figure that we only have three wins so far this season, it's time to start taking full points, isn't it? The Saints were looking well on their way to doing just that against Norwich on Wednesday until 'keeper Paulo Gazzaniga let a low free kick — which looked to be an easy stop — squirm in underneath him. Three points would have pushed Nigel Adkins' side out of the relegation zone for the first time this season, but their frustrating habit of dropping points wasn't about to abate; unfortunately, we can relate all too well.
The recurring theme — the underlying motif if you will — of the last two seasons has been one of overwhelming to underperform. Opposition on their knees, but the death blow never comes. We ship a silly goal and we share the spoils. The opposition 'keeper turns in a blinder and the net never bulges. Stevie is feeling the strain and Rodgers knows it. We've been overly reliant on the skipper since he arrived and we'll be missing him when he's gone, but there's a bright spot down the tunnel.
Lucas is in contention for a starting place. We've kept things pretty quiet around here about the Brazilians return to fitness — lest we jinx the process and relegate him back to the treatment table — but he's got a chance of running out against the Saints and there's hardly better news to talk about. With the squad resembling a 14 year old girls waistline and a number of key players beginning to show signs of wear and tear, having a player the caliber of Lucas raring to go is massive positive. Still, he might keep a ball or two out of the net, but he's not putting one in it.
We've been overly reliant on Luis Suarez to produce the winner — or anything of note — and in the same vein Southampton have leaned heavily on Rickie Lambert. It wouldn't be too far of a fall had the Saints been without the English strikers 6 league goals this campaign, but they would have Liverpool for close company had the Uruguayan not found the net a league leading 10 times this season. If we're going to win on Saturday, I assume he's going to add to that tally.
Anfield isn't a fortress anymore, we know that for sure; results haven't gone our way and getting into the underlying causes for that isn't going to happen in a closing paragraph — that's what mid-season reviews are for — still, there's hope that I'll get to mention a win over the Saints in that particular piece. Three points tomorrow and we're back on track? Not quite, but it's a good place to start. Lord knows, we have to start somewhere.
-steven.
Doing a little shopping? You might want one of these.