Liverpool (1) Southampton (0): Daniel Agger Header Downs Saints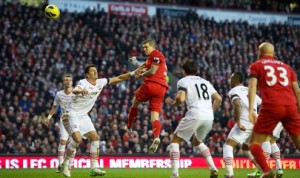 Expecting a result and getting it sure is nice; a Daniel Agger header before the halftime break put Liverpool in front with Southampton suffering greatly at the hands of the hosts. With the Reds dominating throughout the first period, a second half hangover made for some nervy moments as Brendan Rodgers men eventually ran off with all three points.
Liverpool climb to 11th place after recording only their fourth win of the campaign, but with the table looking congested all the way to the top, we're only four points out of sixth place. Winning streaks have to start somewhere, and Anfield was the perfect place for it; and to have it be done with such style makes it that much sweeter.
Although the visitors would look better in the second half, Liverpool kept the Saints under their thumb throughout; a staggering 64% of the possession, 24 shots on net, 10 corners, 555 total passes with a 85% completion rate and the woodwork kept out 2 goals on its own. Brendan Rodgers calls it Death by Football and by the time Daniel Agger found the net, putting Nigel Adkins side of their misery was the only humane thing to do.
It should have come sooner; the Saints couldn't find their way out of their own half and Shelvey, Johnson, Suarez and Sterling all had chances go begging as the momentum built. Time and again you expected the ball to bulge the net. Jonjo clatters the woodwork, Sterling's tame effort is saved, Johnson bombs forward and everything is going through either Gerrard or Suarez. We've been relying on the Uruguayan for so long now it came as a surprise to see someone else put the ball in the net; though, to be fair, he would be the catalyst for it.
With halftime not far away, a free kick on the edge of the area looked to be Luis's bread and butter as a vicious drive sees Paulo Gazzaniga stranded — only for the ball to cannon back off the crossbar. The amount of times we've seen a sure-fire goal hit the woodwork is enough to bring tears to the eyes, but this wouldn't end with waterworks as Glen Johnson collects the ball and floats in a peach of a cross for Daniel Agger to head home; really, there was no time like the present.
The second half hangover was coming as Liverpool began to slow; Southampton striker Rickie Lambert had two splendid long range efforts go begging, though Pepe Reina looked to have both under control. With the Saints finding a little more joy after the break, Gaston Ramirez, who looked to be a threat throughout, found some more room to operate with his intelligent movement off the ball and precise passing while on it. While he looks to be a player with the ability to drag those around him up a level or two, he wasn't getting any higher than our Brazilian.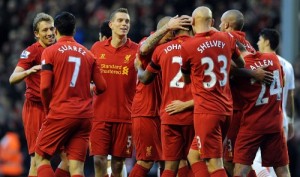 There were whispers that Lucas could return for this one and when he was named in the starting eleven, you couldn't help but smile. Immediately, we saw an improvement; Gerrard was unshackled from his more cautious game, Joe Allen was able to push farther forward and the overall formation took a more positive approach.
Though he's not quite at full match fitness, his presence alone was enough to shift the perspective of the side, and as we built from the back, more often than not he was the springboard for our raids forward. Even with Lucas back and the positivity swelling, the same old concerns still raised their ugly heads.
Not building on a first half goal and allowing the nerves to build as the clock ticks down has become par for the course. We're too slow on the break; Benny Hill bumbling when we should be razor sharp clinical. The wrong pass, a weak shot, high wide and not at all handsome — a theme that we can't seem to break. Dominance of this caliber should translate into goals — with Suarez suspended for our next match, things aren't going to get any easier — but that's a matter for another day.
A make or break Europa League match with Udinese splits up the week before West Ham at the weekend and another shot at moving the point tally upwards. Beating a side that we should be beating shouldn't be a cause for celebration — Southampton are hardly the world beaters that should be stealing points at Anfield — but with our recent record being enough to unsettle an iron stomach, three points is a good enough reason to break open the bubbly. Not that we need an excuse to get drunk, mind you.
–steven.
Got something to say? Want to weigh in? Have a go in the comments or find us in the social media jungle on Facebook and Twitter.