Last Chance for a Bad Dance: Udinese Europa League Preview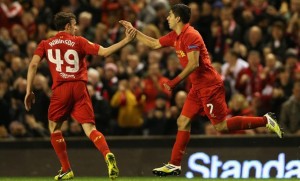 Liverpool travel to Italy tomorrow with both qualification for the knockout rounds of the Europa League hanging in the balance and a serious division between their fans as to whether or not anyone, including the players, should care.
Speaking of the Europa League with a certain amount of contempt is nothing new; we complain like hell when we're not playing matches on the continent, but the minute those matches start to become a bother, we're ready to pack the whole thing in. Then, if we do find ourselves on the outside looking in, it's the end of the world as we know it — 'cause we should have won this thing at a gallop, shouldn't we? No matter which camp you currently reside, a meeting with Udinese stands between us and the twisting nether of fate.
The last time these two sides met, Udinese striker Antonio Di Natale put in a second half performance that ballads are written about. It wasn't quite Steven Gerrard's second half hat trick against Napoli a few seasons back, but the Italian sparked his side to life as the Zebrette came from behind to take full points at Anfield. Though that was then and this is now; after a less than stellar European campaign, Udinese have no chance of qualifying for the knockout stages of the competition.
A late equalizer by Young Boys dashed Brendan Rodgers' hope of having qualification done and dusted at this point — now, we've got to see things out in the last match of group stages. Anzhi Makhachkala have already qualified for the next round, which leaves Young Boys and Liverpool to battle it out for the second spot. With the Russians sitting pretty, their unlikely to see much benefit in pushing hard against the Swiss; Udinese, on the other hand, will have the shoe on the other foot. A stuttering league campaign hasn't hit the heights they may have hoped, there's little chance the Italians will be throwing their weight behind a match that means so little.
Having Luis Suarez pick up a yellow card in the 1-0 win against Southampton on Saturday could work to our benefit. With the Uruguayan suspend for this weekend's trip to Upton Park, the Premier Leagues top scorer is expected to make this one count. Suarez will have a rare break when his side run out on Sunday; regardless of the result, we don't have a midweek match next week and he won't be available until Aston Villa makes their way to Anfield on December 15th. The rest will do him a world of good — even if it leaves the team in a pinch — still, it's going to take more than Luis to put the Reds through. Though, you may be hoping for a different result altogether.
While I straddle the fence, it's time to face facts. We've played each of the top sides in the Premier League already and with the league table so congested, the festive fixture period with a number of supposedly "easier matches" will be a make or break time for us. The next four matches can either re-ignite our season or snuff it out completely; do we need the distractions of the Europa League hanging over our heads in the New Year? We'll find out if we're going to losing more sleep in due time.
-steven.
Got an opinion? Just dying to blurt it out? Have a go in the comments. We're listening.