Ironing Out Who's On Top: West Ham Preview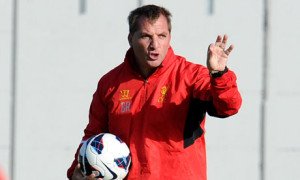 This is the moment we've all been dreading; we're going to roll into a Premier League match without a recognized striker. Luis Suarez picked up his fifth booking of the season in last weekends win over Southampton and now we're going to Upton Park with no one up top.
Blather away about the "False Nine" all you want — my patience is too short at this wretched hour to process that possibility. What I do know for certain is that Liverpool sent Andy Carroll, a player we spent £35mil on, out to West Ham on loan without first bringing in a replacement. Forget the fact that Big Andy is injured and ineligible to play against us anyways and remember that he could be in our side playing against them. That's a novel idea isn't it?
Maybe I've fallen into the media trap and am making more of this then I should be. We're coming off two back to back wins, but both of them were 1-0 victories where we had more chances than most sides get in two matches; yet we couldn't find the net more than once in either. We're without Suarez, but we have other players that can score — right?
Jordan Henderson scored his first European goal on Thursday night which saw us secure progression into the knockout stages of the Europa League and it was Daniel Agger that scored the go-ahead goal, and subsequent winner, against the Saints last weekend. If you're grasping for positives, neither of those players are Suarez; but, in the same vein, neither of them are reliable goal scorers either. With West Ham looking the most dangerous of the promoted sides and sitting three points ahead of us in the table, I think we could be in for a spot of bother.
Your opinion of West Ham gaffer Sam Allardyce may be the same as mine, it may not. Call him a footballing neanderthal and one of the last old boys club hoof ball merchants with a little one and a big one up top and you might not be wrong — but you certainly wouldn't begrudge their league position when we're on the underside looking up. I guess that means you might not be right either; an astounding come from behind victory at Stamford Bridge last weekend showed a side of Sam that few are familiar with and the slight tactical shift at halftime put the boot into the former Champions of Europe.
Kevin Nolan has popped up with 5 goals for the Irons this season and is in serious danger of adding to that tally tomorrow. With Mohamed Diamé adding some bite to their midfield, the battle in the center of the park is going to be an interesting one. We saw Lucas return to the lineup last weekend and his presence allowed both Steven Gerrard and Joe Allen the freedom to push farther up the field than they've been able to without the Brazilian watching their backs. We're going to need all the creativity we can get and if Gerrard is played in an advanced position — behind whoever starts up top and flanked by Sterling and Suso — there's a good possibility the Captain can burst some bubbles again. Three points on the road would be a more than welcome addition to our tally.
Moving into mid-December, the table is congested; West Ham sit three points above us in 8th place, but only 1 point off of Everton in 6th and 4 points off of Chelsea in 3rd. We've already cleared every team in the top half of the table — bar the Hammers — off of our fixture list, so the weeks to come is the time to pick up some much needed points; no one's saying that West Ham is going to be easy, but clawing our way out of the wrong half of the table is priority number one and it starts at Upton Park tomorrow.
–steven.
Pop by We Love You West Ham and read the Q&A session I did with them. Look for those boys to return the favor when the reverse fixture rolls around.