Back to Haunt You: A Brief Statistical Look at Our Former Hammers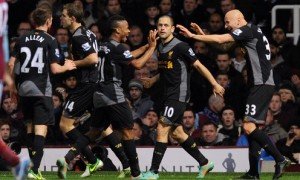 It's no secret that West Ham United have cultivated some of the most potent talent in the Premier League today; you don't need to have all the names rattled off to justify that, but in Liverpool's come from behind victory at Upton Park yesterday, the Hammers only conceded to their own.
Glen Johnson made 16 appearances for the East London club before jumping ship for rivals Chelsea when West Ham were relegated; he'd open the scoring with a the kind of strike he's becoming known for. Joe Cole, who also ended up plying his trade at Stamford Bridge, was handed the Captain's armband at the tender age of 21; the former child prodigy would bring the sides level after Liverpool had fell behind. Though James Collins would be credited with the own goal that handed Liverpool the three points, it would be Jonjo Shelvey that would force him into that error; the same Shelvey that supported West Ham and played a role in their youth team.
Glen opens proceedings.

Glen Johnson

Though the Reds were pushed back for long portions by a persistent and well organized West Ham side, we somehow ended with 61% of the possession. How that happened, it's hard to say, but with Glen winning only 33% of his ground duels and faring only marginally better in the air with 67% of his headers going his way, the fullback would have to impress in other areas. With 40 of his 48 passes completed, the attacking fullback did his business in the oppositions half with a whopping 18 of those passes coming in the final third.

While his defending has come in for some criticism, he was sure to make his one shot count by opening the scoring with a thunderous shot past a stranded Jussi Jääskeläinen. Going forward is where Glen truly shines and with a three entries into the penalty area and 80% of his dribbles successfully completed, the former Hammer played a key role in securing all three points away from home.
With Jose Enrique pulling up with an injury early in the first half, Joe Cole received a warm welcome to the stadium he grew up dreaming of playing in. Stewart Downing, getting a rare Premier League start, was pushed into the left back slot, allowing the former Iron to take up a slot on the wing.

Though things wouldn't go quite to plan, it took him only 2 shots to find the net, sending Liverpool level after falling behind to two first half goals. Joe played his part linking the defense to the attack by completing 16 of his 23 passes in the hotly contested middle of the park.

Brendan Rodgers expects his attacking players to tackle back; there's no slouching in his team and though Joe put in an effort with 7 attempted tackles, he won only 29% of his ground duels and didn't win a single header. The former West Ham captain wasn't that great at holding onto the ball either with giving it away 13 times — although when you compare that to Stewart Downing at 23 times and Raheem Sterling at a mind boggling 27 times, he was hardly the prime offender. Despite his goal today and our thin squad looking thinner, Joe's still likely to be in the shop window come January.
Jonjo forces the winner.

Jonjo Shelvey

Although the winner would go down as a James Collins own goal, it was Jonjo Shelvey that was breathing down the defenders neck when he turned Jordan Henderson's near post cross into his own net. The former Hammers trainee and fan was thrust into an unfamiliar role yesterday playing as a striker in place of the suspended Luis Suarez.

Despite theoretically being the player farthest forward, Shelvey still managed to play most of his passes, 29% of them, to players in front of him and finished with a respectable 82% pass completion rate. With 67% of his dribbles successful, the youngster attempted to channel the fancy feet of his Uruguayan team mate though he also ended up with a familiar statistic in front of net as he failed to get any of his 3 shots on target.

Even though he was playing in a role that wasn't his own, Jonjo carried the type of steely play that earned him plaudits in the midfield to his place as stand-in striker; with him being dispossessed only once and losing possession 10 times he did what he could to contribute to the cause. Though he was masquerading as a striker, Shelvey won 50% of his ground duels and 33% of his aerial duels; for a midfielder that's playing as a striker, that's not too shabby.
The boss was quick to point out that this was a team win; we share the ball, the responsibilities and the plaudits at the end of the day. Instead of putting the focus on one player to find the back of the net — Luis Suarez scored 10 of Liverpool's 22 goals this season — yesterday we saw three players contribute and pull the team into the right half of the table; three former West Ham players that is.
It's hard to chart the trajectory of all the players that have left the East End club for pitches around the country and theorize what their careers would have been like had they stayed at Upton Park. One thing that's for certain though is that all three of them came in handy yesterday and, in a way, the Hammers are to thank for that.
–steven.
Give some love to our friend @EPLindex in the Twitterverse — that's where all the stats from today's post came from. While you're at it, we're on there too. Pop in and say what up.