Raheem Sterling Takes Five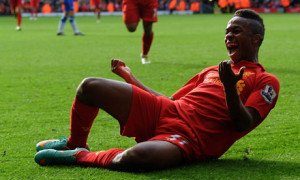 Yesterday we got to chat about players coming in and today we get to talk about players staying put; after a drawn out contract saga, teenage prodigy Raheem Sterling is set to sign a new 5 year deal that would see him tied to Liverpool until 2017.
The News Desk isn't sure that one overpaid apple spoils the whole bunch, but when Sterling is keeping players making 50 times his £2,000-per week youth contract pittance out of the side, it's understandable that the boy wants some of that money. The Gaffer is of the opinion that big money contracts for youngsters puts them on a fast-track to ruin, but with the 18 year old about to see his bank account burgeon with an extra £30,000 per week — and rising — we're going to find out real quick if Brendan is right.