So Long, Farewell, Jog On: QPR Preview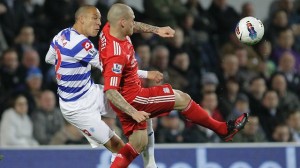 With one match left in the calendar year, and only eleven league wins to show for it, there are a number of memories even tall glasses of whiskey can't erase, but few are quite as stunning — or maddening — as our last visit to Loftus Road.
Sebastian Coates cast his lot for goal of the season and Dirk Kuyt appeared to wrap up a routine three points before all hell broke loose. Shaun Derry pulled one back five minutes later and former Liverpool forward Djibril Cisse headed Rangers level and, if only to add insult to injury, any chance of getting out of London with a point was erased when Jamie Mackie capped off the Reds complete capitulation. QPR turned their fortunes around with that win and a stay of execution was to follow as they beat the drop; with a similar predicament facing them and Brendan Rodgers side coming to town, they can't do it again, can they?
With Harry Redknapp at the helm of the London side, and Liverpool failing to find any semblance of consistency, it's hard to rule anything out. Routing Fulham 4-0 brought a renewed sense of optimism on Merseyside after they were humbled at home by a struggling Aston Villa side, but whatever goodwill Rodgers bought with that win would be quickly exhausted with a dour display in the Potteries on Boxing Day.
If the Reds are going to begin a slow climb up the table, finding consistency will be of the utmost importance. Liverpool, under both Rodgers and his predecessor Kenny Dalglish, have lost a crushing 17 times during 2012 and their failure to either hang onto winning positions to take full points or to claw a goal back and in the very least sneak away with one has lead to one of the worst calendar years in a very long time; this will of course be compounded if we don't make it out of London with the lion's share of the spoils.
Thankfully, we have a good shot of doing just that. QPR have lost 22 league matches this year — more than any other Premiership side — and though their fortunes seem to be slowly turning under the guidance of Redknapp, a complete turnaround isn't on the cards quite yet. With only seven home points accrued so far, Loftus Road has been anything but a safe haven for the struggling side.
If Rangers are going to stop the slide and stake a claim for Premiership survival, they're going to have to find a way to stop Steven Gerrard first. The Captain has been buoyed by the return of Lucas and his license to push forward, which was suspended during the Brazilians lay-off, has been renewed once again. Although he's still come in for some criticism from some quarters, one thing you'll hear few complain about is his three goals in the last three matches and a return to the type of distribution that made him the talisman of this team.
Whether it's Gerrard, Suarez, Sterling or a host of other characters banging in the goals, it won't matter if we can't keep them out at the other end. Conceding three to a Stoke side that rarely reaches such heights brought our back line into question and shone a light into a glaring hole and a growing problem. We've conceded eight goals in our last four matches and for a ship that used to be water tight, it won't be long until Rodgers decides that the leaks need to be dealt with; hopefully, if it comes to that, we have the means with which to plug them up.
Win, lose or draw, it's safe to say that seeing the back end of 2012 will be welcome for all involved. While momentum hasn't served us well this year, ringing in the roll of the calendar with a win remains top priority; just like opening up 2013 with three points will be the second item on Brendan's checklist after the ball drops. Announcing the signing of a new striker – you know the one — should be the first.
–steven.
Get social with our media and give us a follow Facebook and a like on Twitter. Or is it the other way around? Someone ask the kids…