Joe Cole Set to Join West Ham on Permanent Move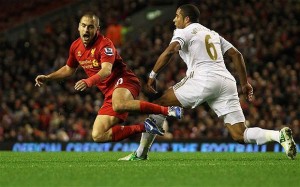 Sooner rather than later is better than never and the News Desk is happy to report that Liverpool misfit Joe Cole is expected to be undergoing a medical and West Ham this afternoon with a view to a permanent move.
Reds gaffer Brendan Rodgers got to welcome Daniel Sturridge into the flock yesterday and the former Chelsea striker was on hand to watch his new teammates run rampant against Sunderland in a 3-0 win. While no one was expecting the Blues old-boys to get much playing time together, it now looks like they won't get a minute on the field with Cole expected to complete a move back to London in time for the Hammers FA Cup match against Manchester United at the weekend. Clearing room on the wage bill has been a major priority for Fenway Sports Group, principal owners of the Merseyside club, and shifting the English playmaker off to other, if not greener, pastures provides some more wiggle room for future negotiations. We wish Joe all the best in the future; hope you enjoyed the £90k a week.