Manchester United (2) vs Liverpool (1): The Good, The Bad and Rooney Didn't Play.
Sitting here in the wake of another defeat to a team in the top half of the table is obviously a little upsetting. The fact that this team is Manchester United makes things all the more painful. Let's face it, the games versus United and Everton are the four that are always a must win in the hearts of Liverpool fans. The horrible truth, however, is that currently, we're not really in a place to give either team a hiding. Mostly, we have to settle for biting our fingernails waiting for the clock to strike 90. Despite what the beginning of this match report may indicate, I am not trying to horribly depress you all. I hope to prove this point in the next few paragraphs.
Firstly, let's talk team selection. As always, the unemployed football managers that account for the entire Twitter population disagreed (and that's putting it lightly) with Rodgers selection. In truth, I think that Brendan picked the best team at his disposal based on availability, fitness and willingness to succeed. Well, all except for the inclusion of Allen. Don't get me wrong, I like Allen, he was our stand-out performer for the start of the season, but his current dip in form surely merits more starts for the top-of-his-game Henderson, who is currently sitting on the bench. Now, I know a lot of people hate Henderson with a passion that is similar to the hatred that was often directed towards Lucas in his youth, but let's take a second to consider how that one ended up. Henderson, in current form, offers a fantastic run of pace going forward and the determination to run every single ball down without question. We needed that today. Allen often looked unenthused chasing the ball, and misplaced passes more times than I could honestly count.
The game today, as is the case with most games, was dictated by the midfield set-up on both sides, and that's where we lost out. Gerrard, Lucas and Allen were simply no match for Carrick and Cleverley in the first half. Carrick especially dominated the game play, leaving Lucas making rash challenges and Allen looking like a fish in the Sahara desert. After a mixture of rather impressive and pretty lucky defending, Van Persie unfortunately managed to open the scoring in the 19th minute with a moment of positioning brilliance. What followed was disappointing. As Liverpool fans we come to expect a 'never say die' attitude, but just one goal from the Red Devils was enough to take the wind out of our already floundering sails. There was no conviction in play, our midfield was out of its depth, Sterling forgot how to pass the ball without it being intercepted, and Suarez was left to imagine what the ball actually felt like at his feet. This was made all the more upsetting by the fact that United didn't actually seem to be bringing much of a game to us. They probably could have been up 2 or 3 at half-time with fairly little effort. The closest they came to that fate was just before the break. After leaving Johnson for dead, Rafael played in RVP for a cheeky back heel which was subsequently clawed from the goal line by Martin Skrtel. A follow up from Kagawa was blocked by a brilliant save from our Spanish 'keeper, who took a shoulder to the face in the process, as Wisdom cleared. The whistle couldn't come soon enough at this point.
The second half brought a change, Sturridge for Lucas, who was sitting on a yellow card. The game stayed fairly similar, at least in midfield, with Skrtel gifting Man United a free kick from a challenge on Welbeck. In typical fashion, luck and defensive decision making was against us, and Robin Van Persie delivered a ball onto Evra's head, which arguably took a slight deflection from the offside Nemanja Vidic. Unlike the first half, however, this seemed to inspire an actual response from Liverpool, resulting in a Premier League debut goal for Daniel Sturridge just three minutes later. An initial shot by Gerrard, following a great interception of United's play, was palmed away by De Gea into the path of our fast paced number 15, who calmly slotted away. Soon after, another change followed, with the ineffective Sterling being substituted for Italian forward, Borini. Borini's introduction only further impacted Liverpool's improving performance, creating truly exciting viewing for the remainder of the match. A few great saves from Pepe Reina and some incredible luck defensively for United at the other end left the result standing at 2-1 after 94 minutes of play. This was perhaps an unfair result considering the gumption we showed in the second half, by placing United well and truly on the back foot. All in all, a disappointing result where three points could have seen us (perhaps only temporarily) level with Arsenal.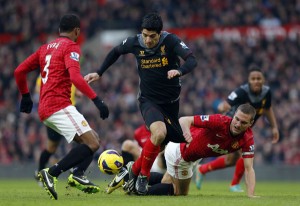 The most frustrating part of the day was not Rodgers' choice of line-up, as many Twitter fans would suggest, but the complete lack of enthusiasm of some of our key players, especially in the first half. Allen and Sterling especially were incredibly poor and lacked the drive to even attempt to change that. Both struggled to get into the game, and seemed to be unable to complete a pass for significant portions of the time. Sterling seemed very selfish on the ball, overlooking some very promising options in the final third. Joe Allen simply looked out of his depth. Rodgers' line-up, in my opinion, and as previously mentioned, was reflective of who he had available, who was fit, and who he probably believed would put 100% into the game. As mentioned midweek, Sturridge and Borini both lacked the fitness to start the game after long periods of time out recently. Henderson for Allen would perhaps be the only viable change the former Swansea manager could have made to improve the starting eleven. However, credit where it's due, Brendan made the right changes at exactly the right times. Once on the pitch, Sturridge and Borini linked up with Suarez superbly in the final third, and the three were responsible for most of Liverpool's build up play. Sturridge was incredibly unlucky to not score again, Borini's positioning and vision was outstanding, and Suarez looked dangerous with the young forwards around him.
Yes, today was another loss for a football club we all love. Yes, that loss happened to one of our most bitter of rivals. And yes, that is always going to be upsetting. However, let's look at the positives for a moment; Borini is back, and he is an additional forward at our disposal. Sturridge is building fitness and has managed an impressive tally of two goals in two games whilst wearing a red shirt. Perhaps more importantly, both Borini and Sturridge were game changers for Liverpool today, offering great understanding with counterpart Luis Suarez. Brendan Rodgers is finally getting some relative squad depth at his disposal, and thankfully it's in the area that we've been severely lacking in for most of the season. With the promise shown today in the final 35 minutes or so of the game, we should start looking drastically more dangerous in the final third. Hopefully, this will lead to us winning games we would have previously lost or drawn through lack of fire power at the start of the season. When all is said and done, it's not quite all doom and gloom at Liverpool Football Club.
– Ailsa M. Blair