A Three Point Split: Arsenal Preview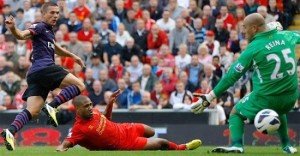 There's a time and a place for an immediate response; a trip to the Emirates and a meeting with sixth placed Arsenal may not be the best place to try that one on. We've only managed one win against the Gunners in our last ten meetings and coming off an embarrassing loss to Oldham Athletic, three points could be a bridge too far.
Meetings between the two sides have always meant a little bit more; traditionally it was a battle between two of the leagues big sides who were either challenging for the title or fighting for a Champions League spot. This season, it's got a bit of a different spin as both clubs sit outside of the coveted top four slots and have had to fight their way up the table tooth and nail.
Although securing three points won't catapult either side back into the Promised Land, it'll go a long way to either widening or closing the gap between the two. Liverpool sit three points behind Arsenal in seventh place; if you can do simple math, that means that a win will pull us level while a loss — well, let's not discuss that right now.
While the Reds crashed out of the Cup under unlikely circumstances, Arsenal avoided a scare of their own when a late Theo Walcott goal put the Gunners into the fifth round. It looked like they'd be heading for a replay with Championship side Brighton & Hove Albion after a pair of goals on either side of the half cancelled out an Olivier Giroud double and it was Walcott, a player Arsenal were unsure would still be around this late into the transfer window, that kept Arsene Wenger from joining his Liverpool counterpart in the hot seat.
It's been well publicized that our policy is to buy young, talented players and foster their development; Cup competitions have always been a great chance to give those kids a shot at showing the manager exactly what they can do and unfortunately, no one — especially Brendan Rodgers — was impressed. There were only three players who started the match that had seen their 23rd birthday and by the time the boss went up one side and down the other of them, a few of his young charges may not live to see their own. Although there weren't any specific names centered out for extra criticism, Rodgers will be all too happy to shuffle the team sheet when we run out at the Emirates — and he should have the ability to do just that come Wednesday night.
Pepe Reina, Glen Johnson and Jose Enrique are all in line for a recall and the return of the talented trio can't come soon enough. Liverpool looked especially vulnerable on Sunday when they were forced to the back foot and the kind of experience that these three bring to the side will go a long way to stem the shakes when the Gunners begin to pile forward. Jack Wilshere and Theo Walcott were both left to cameo roles in the victory over the Seagulls on Sunday and Santi Cazorla played no part as Wenger looked to manage fitness ahead of the all-important meeting with the Reds. It's been eight years since Arsenal lifted some silverware and although the FA Cup represents a good chance to break that barren run, Champions League qualification continues to loom large with its all encompassing importance.
Both teams are aiming for a top four finish and both could very well miss out; while the Gunners seem to be struggling to keep up with their wealthy counterparts, Liverpool have been re-booted under Rodgers in a Year Zero restructure that will take a few years before real dividends begin to show. Three points either way may not secure a slot for either side, but for Rodgers it will be a statement of intent, a sign that he's begun to build resiliency into the squad to respond in a big way — and for Wenger, it will further the notion that his control over Arsenal keeps them running with the pack. It may not be the kind of table defining showdown we've come relish, but that doesn't mean it's not important to both of us.
-steven.
Get social with our media and find us on Facebook and Twitter. There's also a comments section below if you're feeling particularly saucy and want to have a go.