Jordan Henderson vs Arsenal: Moving Pictures and Numbers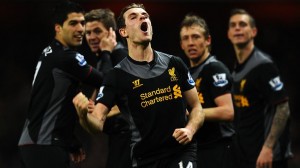 When Arsenal ran out 2-0 winners at Anfield last September, Jordan Henderson was an unused substitute and, some would say, lucky to be at the club after the transfer window closed.
After being shuffled around midfield under Dalglish, the big money signing from Sunderland was shunted to the side by new boss Brendan Rodgers as the Ulsterman looked to put his own unique stamp on the underperforming side he inherited. Last night, the 22 year old kept a cool head to assist on Luis Suarez's opener and showed the kind of persistence that has brought him back into the side after being relegated to cameo and Europa League appearances to double the tally for the Reds with his second league goal of the campaign.
Video compiled, edited and made awesomer by kLFCreds2
At beginning of the season, it was rare to see Henderson clock anything more than 10 or 15 minutes at a time in the league, but as he's fought his way back into the side, he was on the pitch for each kick of the ball against Arsenal and recorded the second most passes on the team with 47 attempts. Though he didn't have the best completion rate, 83% is hardly anything to scoff at; when you consider that he played the most passes forward out of any of our attacking players — 43% of his total passes — his completion rate looks even better.

The gaffer shows his appreciation

Rodgers has us set up to control games, though against the Gunners we played more of a containment, counter-attacking game and let our possession whittle to a measly 38%. Since we were spending so much time defending, the times that we did break were important and Henderson played an integral role in driving the attack forward with 58% of his passes played in the attacking half and 35% of them in the attacking third. With the Arsenal back-line looking porous, finding that crucial final ball became all the more important and Jordan completed 71% of his attempted passes in the final third. Although we'd end up splitting the points, leading Arsenal by 2 goals on their own patch of grass isn't something we're all that used to seeing. With both teams trading frequent blows, Henderson created 3 clear cut chances; 1 would be his assist for Luis Suarez's opener and 1 would result in his second goal of the season. The youngster was pushed a little further ahead than Steven Gerrard at times as we attempted to link the defense with the attack and Henderson did well to work his way in dangerous positions when given the opportunity and found the space to get off 3 shots on net — 1 would go wide, 1 was blocked and the other found the back of the net.

With 60 touches of the ball, he was only dispossessed 1 time and lost possession a respectable 13 times; in 90 minutes that's not so bad.
When you figure Luis Suarez, who had only 8 touches more, lost the ball 26 times and Gerrard, playing a similar role with only 4 more touches, lost the ball 15 times, it's hard to argue this point too much. Jordan played his part going forward, it was on the defensive where he'll need a bit of time on the training ground; he won only 2 of his 7 ground duels (29%) and was 0 for 3 in his aerial duels. Brendan might want to have a word after he reads this…

Stats courtesy of EPLindex.com
After putting in a handful of solid performances, it's starting to seem that Henderson is very much back in the frame. With Lucas around to anchor the midfield, he has the ability to push forward knowing that he's working with a safety net and when the Captain starts to slow down, his young legs just keep on going. The arrival of Coutinho from Inter Milan will provide another level of competition to the midfield battle, but that can only be better for everyone involved.
Although we meekly exited the FA Cup under acrimonious circumstances, we've still got the knockout stages of the Europa League to look forward to and with our once razor thin squad fleshing out a little bit, there's going to be plenty of opportunities for those who make an impression. A handful of good performances don't assure anyone a spot in this squad, but they can never hurt.
–steven.
Get your math on over at EPLIndex.com and give kLFCreds2 a thumbs up on the YouTube.