This, That and the South Americans: Manchester City Preview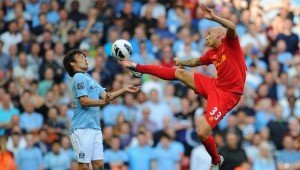 By the time I finish writing this, the Blue half of Manchester could be ten points adrift of their Red neighbors in the race for the big hunk of silver; even though it would please me greatly to see Roberto Mancini keep the pressure on his counterpart, stealing three points at the Etihad would be quite a bit better than that.
Mario Balotelli — who completed his £19mil move to AC Milan as the transfer window closed — continues to dominate the headlines with his "look at me" antics, but there's far more to City than their departing court jester and a Scrooge McDuck sized pile of money. Mancini's gaggle of mercenaries came from eight points behind last season to steal the title in dramatic fashion on the last day of the season and with their ability to dig down and grind out a result, few doubts that they'll be able to do the same this time around.
And really, though they should expect no less, Liverpool home or away has never been an easy fixture for Manchester City. The Citizens have only managed two wins in their last seventeen league and Cup meetings with the Reds and with a number of key players missing, this could be the perfect opportunity for Brendan Rodgers to not only keep his side in the race for a Champions League spot, but to claim his first win against a top since his short reign began.
A 2-2 draw at the end of August gave City a bloody nose, but failed to deliver the kind of knockout punch Liverpool's season needed to really get going. The Reds lead twice through Martin Skrtel and Luis Suarez before a poorly placed back pass from the Slovakian allowed Carlos Tevez to nip in and round Pepe Reina to steal a point for the visitors. If the departure of Super Mario leaves the Citizens with only three recognized strikers, they're hardly in a poor position with the two Argentinians they can call on.
It's a well established fact that Carlos Tevez — who's failed to find the net in his last eight league matches — loves scoring against Liverpool and that Sergio Aguero, though not quite as prolific against their near neighbors, provides the type of constant danger that few EPL strikers can; though they can count our own Luis Suarez as company in that club. The Uruguayan has eight goals in his last seven games and as he scored the opener against Arsenal in our midweek draw at the Emirates Stadium, Roberto Mancini was on hand to take in the sublime skill of our biggest goal threat and his burgeoning partnership with former City striker Daniel Sturridge.
Vincent Kompany continues to be sidelined by a calf injury and with Matija Nastasic questionable, Javi Garcia may be forced to resume his role as a stand-in center back; even from here, I can hear Suarez rubbing his hands at that prospect. The failure to capitalize on chances that that plagued our early season form seems to have abated somewhat, though we've failed to score in our last three league matches at the Etihad, our inconsistency continues be our biggest threat as we make things harder for ourselves than we should be. Three minutes of lax concentration cost us at Arsenal midweek and though the performance as a whole was quite good, we'll have to re-produce that and more if we're going to put one over on the Champions.
Queens Park Rangers were able to hang on for a point in a goalless draw against Mancini's men last time out and although that will give us an extra shot of confidence, it will give City extra impetus to make up for the dropped points in front of their own fans.
If we're going to find our way into a Champions League spot before the end of the season, this would be the perfect jumping off point for what's sure to be a hard run up the table; in contrast, if the Citizens are going to complete another turn-around to steal the title from the hands of United, they can ill afford to lose this, or any other match. It's a bit disappointing that both us can't take all three points, isn't it?
–steven.
We got that Facebook thing. We're on the Twitter. You can say something in the Comments or you can spread the love on your social media site of choice. So many options, so little time!