Daniel Sturridge vs the Citizens: Moving Pictures and Mathematics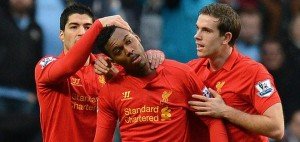 There were a few people out there that weren't convinced by Daniel Sturridge; it's safe to say, they're keeping things quiet these days if the English strikers four goals and one assist in six games has failed to render them converts.
During the summer window, we sent Andy Carroll out on loan and failed to bring in a replacement; when Fabio Borini fractured his foot in November, Brendan Rodgers was left with only Luis Suarez as a recognized first team striker. When Sturridge arrived from Chelsea in a deal worth somewhere in the region of £12mil, he wasn't just a body to fill in the gaps — the expectation was that goals would follow. After becoming the first player to score away from home at both Old Trafford and the Etihad in three years, it's getting to be obvious that he's ready to take that challenge head on.
All that fancy cutting and editing by the talented AssaidisCreed
Playing to the whistle? Makes sense…

Daniel put in a full 89 minutes today and throughout he was our most consistent attacking threat. His movement and intelligent running paid out dividends as the striker created 3 clear cut chances. Usually it's his strike partner Luis Suarez racking up the plaudits for his dribbling ability, but the England man showed the rest of the side a thing or two about movement by completing all 3 of his dribbles.

One of the worst parts of watching Liverpool earlier in the season was watching us waste dozens of well worked chances, shooting either off target or wide when the crucial moment arrived. Sturridge has played his part in completing the turn around with 67% of his shots accurate against Manchester City; he sent in 1 shot every 30 minutes and from 5 total shots, 2 were on target, 2 were blocked and 1 sailed wide. Finding the back of the net to bring the Redmen back to level terms was a nice touch as well.

Though he's been called selfish, there was some decent passing on display today from the striker and he completed 88% of his attempted passes. With the Reds pressing his up the pitch, Daniel spent a lot of time in the opposition half and played 52% of his passes in the attacking third; 88% of those passes found their mark and Brendan Rodgers will only be able to smile about that. With 53 touches of the ball, Sturridge was dispossessed only 3 times and was able to win 3 free kicks. It was a Man of the Match performance that was only blighted by a yellow card picked up for simulation. It can't all be perfect, right?

Stats courtesy of EPLIndex.com
The arrival of Daniel Sturridge has certainly shook things up; Raheem Sterling, Suso and Fabio Borini might be wondering where their place in the first team went. Four goals in six games is an impressive return and with him mining a rich run of form, it's likely you won't see the Gaffer yank him out of the starting eleven anytime soon.
If he can find the net against United and City this early in his Liverpool career, imagine what he's going to be able to when he has some time to bed in. It goes without saying that everyone — except the opposition — is looking forward to finding out.
–steven.
Get on over to EPLIndex.com for all your number needs and while you're at it, AssaidisCreed has a YouTube channel you might be interested in. Call it a hunch…