'A view from the Kop' Liverpool 5-0 Swansea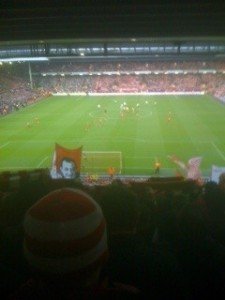 Well, I genuinely did not see this result coming as the walk to the ground was as subdued as I can remember since the Roy Hodgson days. The pubs were flat, the chatter was quiet, and there wasn't a lot of laughter. It all felt a bit 'inevitable' with people still unable to comprehend how we'd lost to WBA on Monday evening.
The various social network sites have been awash with 'expert opinions' from frustrated fans, and although I posted after Mondays game that patience is needed, it is hard to sometimes put into practice such patience
I was excited to see recent recruit Phillipe Coutinho start, and also that Swansea were 'resting' a number of players including the impressive Michu. The game started at a good pace, and it became pretty evident early on that Liverpool were 'up for it' as attack after attack peppered the Swansea goal. However, as Monday, the longer the score remained 0-0, the more anxious the crowd would become.
The deadlock was broken by a Stevie G penalty after Luis Suarez was fouled at the Kop end- Deja-vu? Maybe, but Stevie held his nerve to despatch a great penalty into the opposite corner to the one where he missed on Monday evening. Relief was felt by all sections of the home crowd as we went in 1-0 up at half time. It had been a decent half with Suarez, Coutinho, and Daniel Sturridge all going close. It has to be said that already we look a lot better side with Daniel Sturridge playing. He stretches defences which allows space for Luis to forage and move into.
The 2nd half started and Boom! We scored within seconds after the restart with Mr Coutinho skipping through the Swansea defence before slotting home after an incisive pass from 'our Luis'. The Kop came alive- Anfield had been awakened from the pre Monday slumber that it had found itself in. The natives had only just retaken their seats when the men in red hit Swansea with a great 3rd goal- some fantastic footwork from Daniel Sturridge and a slick one two resulting in a great finish from Jose Enrique. 3-0 after 48 minutes!
The fourth was imminent as the reds superiority was in danger of totally humiliating the bedraggled Swansea defence. It came, on 56 minutes with a cooly dispatched finish from 'our Luis' following a good pass from Stewart Downing. We were in dreamland!
The fifth followed after a Swansea handball and a brief 'chat' allowing Daniel Sturridge to get the goal that his play deserved when he rifled in the penalty. Big respect to Stevie G for allowing Mr Sturridge the chance.
We literally battered Swansea for 90 minutes and I can only remember them having one testing shot the whole game. The only blot on a fantastic performance was a shoulder injury to Fabio Borini who had only been on the pitch a few minutes as a substitute. Apparently possibly out for the rest of the season. Really sad, but one does wonder if 'it' is going to happen for Fabio at Liverpool.
Pleasing for me was the 60 minute cameo from Phillipe Coutinho who appears to have the knack of 'ghosting' into really dangerous positions. He looks a decent player to me. Daniel Sturridge also a real plus and he appears already to be an essential ingredient in our starting 11. It is such a pity that neither can feature for Thursdays Europa game.
Maybe today was too little too late- who knows? There's 11 games to go, and who knows where we will end up come season end. However, as a fan, there is nothing better than seeing the reds serve up a convincing win, so for that, I for one am happy. It's a great way to end a really disappointing week…. YNWA