At the End of the Day, There's Something to Say: Swansea City Preview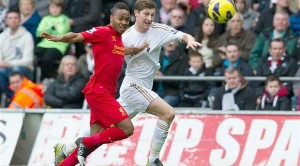 We've been sitting around all season waiting for a response; we still haven't recovered from the opening day loss to West Bromwich Albion, so it was no surprise when two late goals forced us to give up all three points in the reverse fixture on Monday night. When the Baggies do the double, it's time to have a good hard look at your situation.
Turning the tide in the Europa League on Thursday night wasn't on either and if Zenit St. Petersburg were somehow channeling Steve Clarke's side, then you have to say good on them — they did just enough to get by and we let them get away with it time and again. In both matches we controlled everything, but our out and out wastefulness in front of net once again made sure we left with only our wounds to lick. I expect some seasoning for our various scratches and scrapes when Swansea comes to Anfield on Sunday; and you know what? I'm glad.
Let me be the last to say it: Champions League football is out of reach. We're twelve points behind Tottenham in the race for fourth and with only 12 matches left, the gap is too large to make up — though that was just as true in September as it is in February. We're not stacking up and we're not building on last season; though it's hard to be entirely happy with that, it's not heaping the misery on the way you'd expect. We've got a young side that needs maturity, experience and a example of how the boss expects us to play. What better side to show them how it's done than the one Rodgers taught to do it?
Swansea boss Michael Laudrup inherited a side playing solid football. The Welsh side were the surprise package of last season and they've gone from strength to strength during this campaign. the peak — for this season anyway — is coming up quick in their upcoming League Cup final with Bradford City; Swansea's first appearance in the showpiece fixture of a domestic cup. If you're going to start handing out plaudits, you have to start with our boss first. Brendan Rodgers built a strong base in Michel Vorm, Angel Rangel, Nathan Dyer and Ashley Williams, instilling not only a sense of how he wanted the game played, but a belief that it would work if they did it right. They've done just that and new boy Laudrup has been able to take that foundation and expand upon it with his own distinctive vision — though it's not one that's strayed far from the plan Rodgers laid down.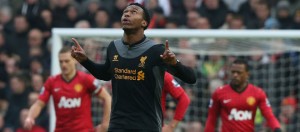 Michu, brought in from Spanish side Rayo Vallecano for £2mil, has been a revelation with fifteen league goals to date; that tally is respectable for any striker in their first top flight season and it's safe to say he's not done yet. Thankfully, we have a pair of strikers that can match up.
In his pre-match press conference, the boss confirmed that Daniel Sturridge is fit available to face the Swans come Sunday. If we've become over reliant on the former Chelsea man since his January arrival, then it's hard to feign even the slightest bit of surprise; four goals in six appearances is exactly the kind of return we were looking for on our money and with Luis Suarez in a mini-slump, Sturridge is exactly the type of player that can inspire the Uruguayan to climb right back out of it. The news that Philippe Coutinho could be in line to make his first start for the club since his move from Inter Milan only a short while ago has to go down as another positive and a sign that Rodgers is going to work from the ground up.
Groan all you like, but this is happening. No, we're not building on the relative "success" of last season and if you say that Kenny Dalglish wasn't given enough time to show what he could do, I won't argue with you one bit; but that's neither here or there. If you can name me a Manager that was going to come in and turn this side — the one that's finished no higher than 6th in our last three campaigns — around without starting from the beginning, I'll show you a man that you were setting up for failure.
Truth be told, we may not take three points from Swansea on Sunday. In all honesty, it's a good possibility that Zenit St. Petersburg will end our last push for silverware when they visit Anfield on Thursday and it's even more likely that we won't be playing on the continent next season. It's not OK and I don't particularly like it, but it's our reality and that I'm willing to accept. We can keep trying to build a contender with spare parts and patchwork fixes, or we can start from the ground up and build a big Red monster. Brendan Rodgers, for all his blind spots and inexperience, is trying to do just that and if you don't think emulating his Swansea model is a good idea, then you go tell the Jacks that when they take home their first major trophy ever on the back of his hard work.
We may not beat his former side on Sunday and as much as it hurts to say it, that's alright for now. Having the Baggies do the double means that it's time to have a look at the squad, the system, the tactics and, it looks like most importantly, the belief. Maybe I'm wrong, but the one I think will be looking hardest at all of these, and more, is Rodgers himself. Will he find a solution? Well, I can assure you he won't if we don't give him time.
–steven.
Ok, that was more of an editorial than a Match Preview, but I have a keyboard and you don't. Fine, I guess you have one too. Put it to good use and leave a comment.