Traveling to Russia in the middle of winter was never going to be an easy task, but we were all hoping the Reds could at least come away with a draw or an away goal. Jamie Carragher's last away fixture in Europe was anything but ideal.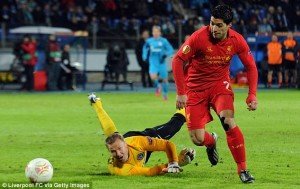 There were two changes to the side that faced West Brom on Monday. Raheem Sterling and Joe Allen were in the team for Lucas and Jonjo Shelvey. Suarez played center forward and was isolated for much of the match. The high pressing and accurate passing game that is characteristic of the Rodgers system was nonexistent. Throughout the first half, possession was given away cheaply and Zenit was allowed to repeatedly test Pepe Reina. The home side finally broke through in the 70th minute when Hulk smashed an unstoppable shot into the top corner. The strike invigorated Zenit and another goal was scored after just two minutes by Sergei Semak.
At this point, the clear-cut-chances missed by Suarez early on were haunting Liverpool. This team does not do well when they are a goal down and Rodgers brought on Lucas in place of Sterling to ensure the deficit would stop at 2. Oddly enough, that was the only change made the entire match by the Reds. Forwards Borini and Suso were left on the bench. Why they even bothered making the trip so that Suarez could play CF is beyond me. The Uruguayan had arguably his worst game in a red shirt this season, showing signs of last season's form.
This is likely to be the last Europa match reaction to an away fixture for a very long time. As I write this, the Reds are currently two goals down on aggregate coming back to Anfield and sitting in 9th position of the Premier League. European qualification of any kind is all but hopeless at this point. It would take a miracle in the return fixture for Liverpool to progress to the next round and the current lineup does not seem up to the task.
A few weeks ago, I had a great feeling about the club. It seemed that the team's performance was trending in the right direction and we might be making progress after all. After West Brom and Zenit, I'm really not sure. The season isn't over yet, but the few bad results are turning into a bad era. Istanbul was 8 years ago. I do not have the prescription for what ails this club, but I know it is not simple. If it were as easy as a change in management, owners, or players, we would just do it and be getting better. We have Swansea on Sunday and I'm anything but confident.
-CSD