Philippe Coutinho vs. Swansea City: Video and Stats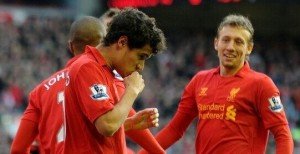 As far as debuts go, Philippe Coutinho will be keen to forget his. Coming on with twelve minutes left to play and a scoreless draw on the cards, the tables were flipped and West Bromwich Albion were able to find the net twice to steal the points at Anfield.
With the Brazilian cup tied, he'd be spared a trip to Russia midweek and another loss at the hands of Zenit St. Petersburg in the Europa League. Although he's lacking in fitness, the Reds playing three matches in six days means that the squad needs to rotate and Coutinho was handed his first start against Swansea City on Sunday; if his first match was a disappointment, the second would be anything but.
Video by the fantabulous @MostarLFC
The boss expected this

Brendan Rodgers expects it will take Coutinho a little while to get up to speed with the English game, but it looked like he was going to slot in seamlessly from the get go. Although he played only 60 minutes, that would be more than enough time for Anfield's new Number 10 to make his mark on the match. He was signed to help bolster our attack, and we got a glimpse of how he'd do just that with 1 shot every 20 minutes; with 5 shots total, 1 found the target, 2 were off target and 2 were blocked.

It was that 1 shot that was on target that made the difference. Less than a minute into the second half, Luis Suarez would draw two defenders out on the left wing before dinking a ball through to Coutinho who'd moved into the vacuum the Uruguayan created. The Brazilian had looked good with the ball at his feet so far and the Swans defense unsure of how to handle him; thankfully, he wouldn't give them much time to consider the possibilities. A quick look to the right, a moment of hesitation as he wrong foots Garry Monk with a burst of pace and the ball is sailing past Michel Vorm who was moving for the far post; with his near post shot, the 20 year old had doubled Liverpool's tally and broke his duck all in one inspired piece of work.

No one is going to forget that goal for quite some time, but there was more than his game to than just that. With less than a month to train with the squad, Coutinho is still finding his feet and the rhythm of the side; still, he was able to complete 78% of his passes and 78% of his total passes came in the attacking third, with 70% of those passes finding their intended target. His movements off the ball were giving the visitors a bit of a headache and with a bit of skill, he was also able to win 2 corners and complete 33% of his dribbles – not the best number for a player with some fancy footwork, but that will come with practice.

Stats courtesy of @EPLIndex
Coutinho might only be 20 years old, but he's got the kind of experience that many of our youngsters are lacking; Inter Milan is one of the worlds biggest clubs and training day in, day out with the kind of talent their able to field gives him a leg up on more than one player in our squad. Couple that with his experience playing in the more technically demanding Serie A, and he's able to bring another dimension to a side that's being built from the ground up with promising talent.
Though he never got the chance to fulfill his potential at Internazionale, a run out like that will give us hope that the Brazilian will find his feet on Merseyside. There was the odd shaky moment for the youngster and it's going to take time and patience before he's firing on all cylinders, but if he can carry on from here, the sky is the limit.
–steven.
Get on over to EPLIndex.com for all your number needs and while you're at it, @MostarLFC is back at it and you may want to see what else he's got on offer. You won't be disappointed.