Anfield News Could Come as Early as May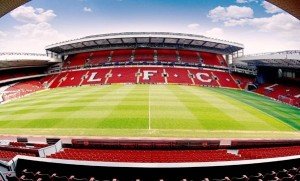 The News Desk has been out enjoying the spring sunshine as of late and with Ian Ayre confirming that we could have progress on the redevelopment of Anfield as early as May, the sky just brightened up that much more.
There's been a few figures thrown around, but it looks like the ownership is looking to spend somewhere in the region of £150mil to overhaul the stadium. With plans for a new Main Stand and Anfield Road End, the increase in both capacity and revenue has been a long time coming; that is, if the club is able to move ahead. Liverpool boss Brendan Rodgers stressed that there was "a lot going on behind the scenes" as the club puts in overtime to make his side "a bigger club financially". In recent years the Reds have fallen behind the competition in the money game and when you couple the Premierships new rules regarding wage spending with UEFA's Financial Fair Play rules, stadium capacity and merchandise sales just became far more important than an owners blatant disregard for fiscal tidiness.
We've heard murmurs here and there about the various stages of planning for the expansion, but in order to get the wrecking ball swinging, the club is going to have to start shelling out for some of the property around the stadium. The Reds hierarchy is hoping to submit a planning permit this spring and while they look to "improve that property acquisition situation" the rapid progression we hoped for has stalled a bit. Still, Ayre is hopeful that upcoming meetings with Liverpool City Council and the stakeholders in the club will bear fruit and the club could be able to announce something concrete — pun intended — in May or June.