Only a Moment for Sentiment: Chelsea Preview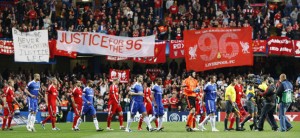 The return of Rafael Benitez for the first time as an opposition manager was always going to dominate both the headlines and the bulk of the talking head chatter ahead of Liverpool's crunch meeting with Chelsea on Sunday; when you break it down, that actually makes a whole lot of sense.
While the Blues may not be one of Liverpool's rivals in a traditional sense, our meetings in recent years have evolved from another three-points to some really prominent — and nasty — affairs. Throw a polarizing figure like Benitez into the mix and this cocktail just got much more potent. While the media falls over itself to over-hype every little match-up with overzealous taglines, in this particular instance, at least some of them will be warranted.
Chelsea may be out of the Champions League and desperately clinging to third place in the league and Liverpool may be languishing outside of the European places in seventh, but the melodrama of it all qualifies, in the very least, a "Super" for this Sunday. While many Liverpool fans still cling to Rafa as the rightful boss of the Anfield club, there's a distinct sense of irony for even those that have moved on that no matter what team Brendan Rodgers sends out on Sunday, the backbone of it will be Benitez built.
There's no two players that currently typify this Liverpool side in the modern era than Jamie Carragher and Steven Gerrard; both rose to prominence and enjoyed their greatest successes under the Spanish manager — with a Champions League victory in 2005 occupying a special place in the hearts of Reds fans everywhere. Pepe Reina, signed by Benitez from Villarreal in July 2005, and Lucas Leiva, picked up from Gremio the summer of 2007, remain essential cogs in the Red machine. Barring any freak injuries or last minute tinkering on the part of Rodgers, only Fernando Torres will be missing from the spine of a Liverpool side that came within a whisker of snatching their first title of the Premiership era in the spring of 2009.
While the Reds have been unable to hit those same heights since, they've continued to enjoy success against Chelsea and are unbeaten in their last 5 meetings with the London club. Coming off back to back goalless draws with West Ham United and Reading, their hopes of finding themselves in a European spot — or in the very least finishing above cross-town rivals Everton — at the end of the season is fading fast as this campaign winds down. The Ulsterman is targeting five wins in their last five matches, but even that won't assure anyone of anything.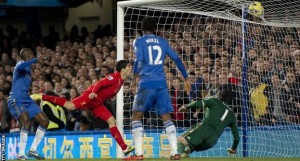 The Reds go into this match four points to the better than they were at this stage of the campaign last year, but with the same questions about their ability to produce a top four finish hanging over their heads.
While Rodgers continues to mould a team that will one day be able to compete, progress has been slower than some would expect and their meetings with the top teams in the league have been a major point of contention for his detractors since the get go. A 1-1 draw at Stamford Bridge earlier in the season was a good result for a Liverpool side still adapting to the change in tactics that Rodgers brought to the team when he took over from Kenny Dalglish in the summer, but that meeting hardly held the same significance, both on and off the pitch, that this one does. With only five matches remaining, three points on Sunday is critical if the there's still any hope of qualifying for Europe; then, of course, there's the whole Rafa thing.
There are too many threads in this ball of yarn that need to be followed to truly sum this all up; we're hardly starving for plotlines.  Brazilian Phillipe Coutinho, signed by Benitez for Inter Milan is now flourishing for Liverpool after being snatched up by Rodgers during the January transfer window. Fernando Torres, who moved from Liverpool to Chelsea not long after Benitez jumped ship for Italy, is back under the wing of the manager who showed the world what the Spanish striker could do. Daniel Sturridge, a youngster who was nipping at the heels of Fernando's place in the Chelsea line-up made the move to Merseyside under Rafa's watch. Claims that the Spaniard would return to Liverpool one day have been both analyzed at great lengths and dismissed with great scorn. There's still more yet, but despite the wealth of words to write, very few of them really matter.
Though Rafa will receive a very richly deserved welcome from Anfield while continuing to receive scorn from the travelling Chelsea contingent, he returns as an opposing manager with a team that garners no love from the Liverpool faithful. His side stand between us and three much needed points and there isn't a sentimental storyline out there that's going to make me — or any other Kopite — lose sight of that fact. Interim manager or not, on Sunday at least, Rafa is one of them.
–steven.
Get social with our media and find us on Facebook and Twitter. There's also a comments section; go on and have a go.